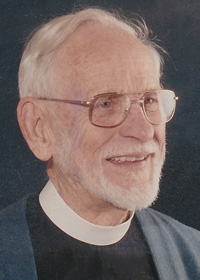 June 15, 1920 – November 6, 2019
The Rev. Douglas C. Vest, retired priest of the Diocese of Los Angeles and its former canon missioner for ministry, died Nov. 6 at Westminster Canterbury of the Blue Ridge in Charlottesville, VA , a retirement and care facility where he had lived for the past 10 years. He was 99.
A memorial service will be held in the spring of 2020 at St. Paul's Memorial Church in Charlottesville.
Survivors include Vest's wife, Norvene Foster Vest, whom he married in 1982; his son Jim Galloway (Nancy) and daughter Christine Wnorowski (Donald); his grandchildren Joshua Galloway, Anna Highsmith; four great-grandchildren, and many nieces and nephews. He was preceded in death by his first wife, Alice; a brother and two sisters; a nephew and three nieces.
In the Diocese of Los Angeles Vest assisted at St. Mark's, Altadena (2002 – 2007); Church of the Angels, Pasadena (1997 – 2001); and Grace Church, Glendora (1990 – 1997). From 1990 to 1997 he also was canon missioner for ministry for the diocese, in which position he served as chaplain to clergy and seminarians. Previously he assisted at All Saints, Pasadena (1975 – 1981); was vicar at St. Andrew & St. Charles Church, Granada Hills (1968 – 1975); chaplain at San Fernando Valley State University, Los Angeles (now California State University at Northridge) (1968 – 1975); and assistant at St. Andrew's Church, Fullerton (1966 – 68).
A recognized leader in spirituality, Vest wrote 12 books, eight of them volumes of poetry. Titles include A Second Helping, Churchianity Lite, Entering the Mystery, Hm for the Heart, Deep Treasures from Retreat, On Pilgrimage; Luminous Island, Sauntering into Holiness, and Why Stress Keeps Returning. He was a member of the Oblate Order of St. Benedict.
Douglas Vest was born in Covington, Kentucky, on June 15, 1920, and graduated from the University of Cincinnati before receiving his U.S. Navy commission. He served aboard the USS Chenango as a radio officer; subsequently he attended the Navy postgraduate school (1944-45) and taught there as an instructor in cryptology.He later earned a master's degree from Johns Hopkins University (1953) and became a research physicist. He was head of Applied Interior Ballistics at Aberdeen Proving Ground in Maryland, and senior consultant with Redel Inc., Anaheim, and North American Rockwell in Downey.
He was ordained to the diaconate in September 1966 and to the priesthood in March 1967 by Francis Eric Bloy, third bishop of Los Angeles, after earning a master of divinity from Bloy House and the Episcopal Theological School in Cambridge, Massachusetts. He later received a master's degree from Duquesne University's Institute of Formative Spirituality (1982).
In retirement he moved first to Green Valley, Arizona, where he assisted at St. Francis in-the-Valley Church; then to Virginia with his wife Norvene.and devoted himself to the study of nature and to his hobbies of writing, hiking, gardening and woodcarving.
Memorial donations may be made to St. Paul's Memorial Church (1701 University Ave, Charlottesville, VA 22903) or WCBR Foundation (250 Pantops Mountain Drive, Charlottesville, VA 22911).