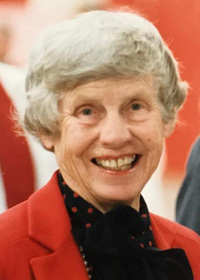 November 3, 1919 – August 29, 2017
Canon Janice Morrison Overfield Rusack, widow of the late fourth Bishop of Los Angeles, the Rt. Rev. Robert Claflin Rusack, died Aug. 29. She was 97, and had been in declining health in recent years.
Survivors include her daughter and son-in-law, Rebecca Rusack Waycott and Richard Waycott; son and daughter-in-law Geoffrey Claflin Rusack and Alison Wrigley Rusack; and five grandchildren, Louisa and Colin Waycott and Robert Hunter, Austin and Parker Rusack.
A memorial Eucharist will be held at 2:30 p.m. on Saturday, Oct. 21 at St. Matthew's Church, 1031 Bienveneda Avenue, Pacific Palisades 90272 (310.454.1358). A reception will follow the service.
Janice Morrison Overfield was born November 3, 1919 in Salt Lake City, Utah, to Chauncey Percival Overfield and Ione Morrison Overfield. Ione was born in Denver, Colorado in 1882, and Chauncey, born in 1872, had moved out to Utah in the early 1900s from Brooklyn, New York, bringing his mother and sister with him to escape the tuberculosis epidemic. Janice Overfield was raised an Episcopalian and graduated from Rowland Hall, a girls' school. She attended Wellesley College and graduated as a history major in 1942. She lived in New York for a few years and took classes at both Union Theological Seminary and Columbia University. She and Robert Rusack met while he was working in Salt Lake City — first as a lay missionary and then as new deacon and priest — and married there at St. Mark's Episcopal Cathedral in 1951. They lived in Deer Lodge, Montana, where he was vicar at St. James' Episcopal Church, and where their daughter and son were born. In 1957 the family moved to Canterbury, England, for a year of study. From Canterbury, the family moved to Santa Monica where the future bishop was newly elected rector of St. Augustine by-the-Sea Episcopal Church.
Life and ministries for the Rusacks expanded in in 1964 when he was elected bishop suffragan of the Diocese of Los Angeles, and eight years later as bishop coadjutor becoming bishop diocesan in 1974. During these years Canon Rusack was active in her own ministries of support for clergy spouses and families, and in significant fundraising for Wellesley College, Planned Parenthood, and the Neighborhood Youth Association. Active participants in ministries of the Anglican Communion, she and Bishop Rusack enjoyed an enduring friendship with Archbishop of Canterbury Robert Runcie and Rosalind Runcie. Canon Rusack also was dedicated in her support of St. George's College, Jerusalem, and of the General Theological Seminary, New York City, of which Bishop Rusack had been chairman of the board of trustees.
She was a devoted parishioner of the Parish of St. Matthew in Pacific Palisades, located near the family's longtime residence on Sunset Boulevard where she very much enjoyed entertaining and also the outdoors, hiking along the local hillsides with neighbors and her beloved Labrador Retrievers. She remained active in these ministries following Bishop Rusack's death in 1986, and later that year was named by Interim Bishop OIiver B. Garver, Jr. an honorary canon of the Diocese of Los Angeles.