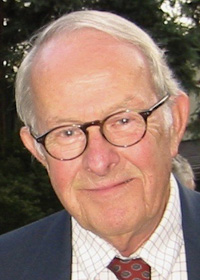 December 23,1928 – September 21, 2021
[The Episcopal News] The Rev. Samuel Leslie Hall – who, after ordination in the Diocese of Los Angeles served congregations in San Marino, Whittier and Long Beach, and as chaplain at Good Samaritan Hospital – died Sept. 21 with family members and friends at his bedside. He was 92 and had resided since 1987 in Albuquerque, New Mexico.
A memorial service will be held at St. Michael and All Angels Episcopal Church, Albuquerque, on October 23 at a time to be announced.
Hall was born on December 23, 1928, in San Francisco. He was preceded in death by his parents, Iris Gerow Hall, and John Leslie Hall, both of whom grew up near Hanford in California's Central Valley. The family moved to Beverly Hills, where Hall graduated from Beverly Hills High School in 1947. There he received the Spanish Honor Award, given nationally to the outstanding Spanish student, and gave his acceptance speech in Spanish. That language became a lifelong love, and in recent years he read the Spanish language newspaper Reforma, a Mexico City newspaper, every day.
Hall graduated from UC Berkeley in 1951 with a bachelor of arts degree in history (minor in political science), and he spent another year in graduate school there studying history and education. Then he went to UCLA for additional graduate studies in history. In 1953, after a summer spent in postwar Europe (Germany, the Netherlands, France and England), he worked on a master of arts in Divinity at Church Divinity School of the Pacific in Berkeley in preparation for ordination in the Episcopal Church. He married Katherine Goode in 1954, then moved for second and third year to Virginia Theological Seminary in Alexandria, Va.
Then followed his ordination to the diaconate and priesthood in 1957 at St. Edmund's Church, San Marino, by Bishop Francis Eric Bloy. In 1959, Hall became vicar, then rector, at St. Stephen's, East Whittier, for six years, interrupted by a sabbatical year in Canterbury England (1965). Upon his return, he was called to St. Luke's in Long Beach (1967) where he stayed until 1974 when he became chaplain at Hospital of the Good Samaritan in Los Angeles.
In 1976, Hall met and married Leila Tunis Niven, who survives him, as do four children from his first marriage: Katherine Leslie Hall Kelton (Skull Valley, Arizona), Geoffrey Stephen Hall of Long Beach, Stuart Samuel Edward Hall of Malibu (Lisa, and twins Kate and Sophia), and David Lawrence Hall (Pete Leon) of Washington, D.C. He added three stepchildren: Douglas Van Cott Niven, Edward Bradford Niven and Laura Bonsall Niven, all of the Bay Area, with his second marriage.
In 1987 Sam and Leila moved to Albuquerque New Mexico; he joined the Rev. Brian Taylor in ministry at St. Michael and All Angels Church, where he spent 10 rewarding years. He retired in 2000 and celebrated that event with a gift from the church; a trip to the South Pacific, visiting Western Samoa and Fiji.
Hall had a wonderful laugh and wit, and a great fondness for English bulldogs, of which he had many. He was grateful for so many dear friends: long-time friend Bruce Larson of Los Angeles; and the Rev. Joe Britton, the Rev. Susan Allison-Hatch of St. Michael's; Maggi Petton, and especially, Dr. Jim Tryon who was with him until the end.