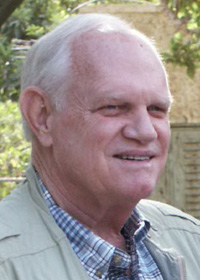 June 7, 1937 – January 12, 2019
Sandy Smock passed away at home in hospice care on January 12, 2019, surrounded by his loving family. He was 81 years old. In 2013, he had been told he had six months to live. He managed to stretch this into six wonderful years with the help of some great doctors and his love of life.
Sandy was born in 1937 in Los Angeles and lived in Southern California all his life. He graduated from Flintridge Preparatory School in 1956. He went to Stanford University, where he met the love of his life, Sue Godfrey. They married in 1959 and graduated together with their master's degrees in 1961 (his was an MBA). They returned to Southern California where most of Sandy's business career took place at Scudder, Stevens, and Clark (later Scudder Kemper Investments) and Salomon Brothers. Sandy retired in 1998.
In 1991 Sandy decided to fully embrace sobriety. In search of his "higher power", he found his way to the Church of Our Saviour in San Gabriel. Both of these events changed the trajectory of his life dramatically. At Church of Our Saviour, he met the Rev. Canon Denis O'Pray, whose sermons began to change Sandy's perspective on the world. This is a parish community that not only "talks the talk" but also "walks the walk" with incredible outreach efforts.
Sandy became deeply involved in his church, with positions of leadership on the vestry and as senior warden. After an incredibly moving trip to the Holy Land in 2004, Sandy became dedicated to promoting peace with justice in this complicated part of the world and encouraging inter-faith dialogue, both at home and abroad. Sandy convinced Church of Our Saviour to adopt an Episcopal parish in the Holy Land, St. Paul's Episcopal Church in Shefa-'Amr. He encouraged others to go on pilgrimage, and more than eight hundred people from the Episcopal Diocese of Los Angeles have now made the trip. Sandy continued this work for years and made a total of sixteen trips to the Holy Land. He was made a Canon of the Episcopal Diocese of Los Angeles in 2006, a designation given in recognition of devoted service to the Church and the diocese.
For the last five years, Sandy wrote a weekly column for Church of Our Saviour called The Beacon. It was designed to shine a light on all of the good works being done by his church community. He was a wonderful advocate and cheerleader, and he desired to be purposeful to the very end. Sandy was a man of great integrity and loyalty, a loving husband and father, and a great friend to many. He believed that change was possible, and he worked tirelessly to be sure that change was for the good of all.
Sandy is survived by his devoted wife of 60 years, his beloved daughters, Molly Lihani and Kate Lacy, his wonderful sons-in-law Rob Lihani and Kirk Lacy, and four cherished grandchildren; Emma and Caroline Lihani and Jamie and Austin Lacy. He is also survived by his loving siblings, Juli Smock Cook and Peter Smock.
A memorial service was held on February 9, 2019 at Church of Our Saviour.