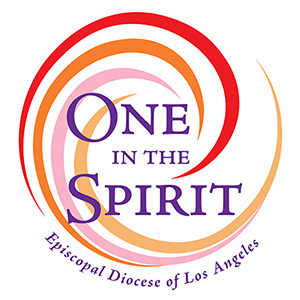 One in the Spirit is a diocesan wide initiative focused on increasing our capacity to expand relationships and deepen connections across differences in order to strengthen our shared commitment to follow Jesus.
A response to the increasing polarization and deepening divisions in our church, our nation and our world, it is committed to equipping us to recover our deep connection to each other and to our world so we can participate more fully in the transforming work of love.
Vision:
To live more fully into our baptismal promise to respect the dignity of every human being.
To proclaim in Christ's name that we will not submit to our era's division and polarization.
To feed hearts that are hungry for connection and community in a secularizing, isolating age."
To understand better how barriers of class, race, language, nationality, culture, politics, geography, orientation, and identification blind us to the image of the divine in one another.
To choose not to choose between challenging systemic oppression in all its forms and respecting the dignity of every single human being.
Mission:
Expand our capacity as a diocese to expand relationships and deepen connections across differences in order to strengthen our shared commitment to follow Jesus.
Compile and develop resources to increase connection to each other and our world, equipping us to more fully embrace the transforming power of God's inclusive love.
Create conversational communities to drive bridge building across the differences that simultaneously enrich and challenge us as a diverse, multi-cultural diocese, utilizing existing diocesan programs and resources as well as creating new ones
From Many, One

 

–

Advent 2021: From Many, One
Advent– the liturgical season of preparation – offers us the opportunity to prepare our hearts for the coming of the Christ Child. It also offers us the opportunity to prepare ourselves for family gatherings during the holiday season which – for some of us – bring the challenge of engaging across differences. On December 2, 9, and 16 from 6:00 to 8:00 PM, "One in the Spirit" is hosting series of virtual conversations structured around "From Many, One: Conversations Across Difference" — the initiative inviting Episcopalians and our neighbors to engage in one-to-one listening and sharing across the many differences that challenge us. Participants will have a chance to see how this framework can enable them to communicate with others with whom they disagree on contentious issues and transform their relationships in the process.
Coming Soon:

Sacred Ground is part of Becoming Beloved Community, The Episcopal Church's long-term commitment to racial healing, reconciliation, and justice in our personal lives, our ministries, and our society.  The 10-part everyone series is built around a powerful online curriculum of documentary films and readings that focus on Indigenous, Black, Latino, and Asian/Pacific American histories as they intersect with European American histories. During the sessions, small groups will be invited to walk through chapters of America's history of race and racism while weaving in threads of family story, economic class, and political and regional identity.
An offering of Sacred Ground is in the works for Spring 2022. You may register here — or contact Canon Susan Russell at srussell@ladiocese.org for more information.
The Episcopal Church continues in the journey toward prayer book revision – an issue that will be very much front-and-center at the 80th General Convention in July 2022. In the words of Dr. Sylvia Sweeney, convener of the Anglican colloquium, North American Academy of Liturgy: "Effective formation involves providing needed information, engaging in dialog around issues that people are passionate about, and allowing experience coupled with conversation to form and perhaps reform perspectives, attitudes, and postures in worship."
In anticipation and preparation for that important work, the Diocese of Los Angeles will host an online opportunity for engagement on issues of prayer book and liturgical revision – convened by members of our Bishop's Liturgical Commission and the One in the Spirit initiative.
Discussions will be framed by "In Spirit & Truth" – a volume of essays offered as an invitation to "an open conversation about the direction our worship life will move in response to our current historical, social, and religious context."
| The curriculum is still under construction. Stay tuned for publication date.
Love is the Way: A five-week book study curriculum
This online exploration of Bishop Michael Curry's "Love is the Way" offers participants the opportunity to engage across geographical and congregational differences that challenge us while encouraging reflection on the love that binds us together; God's love and the reflection of that love in human lives. Study guides are provided below, along with the video presentations from the Advent 2020 launch of the curriculum. A shareable playlist of all five sessions is available here – or watch the individual sessions below.
Session 1:  Reflection by the Rev. Canon Melissa McCarthy
| Chapters 1-2
Session Two: Reflection by the Rev. Antonio Gallardo
| Chapters 3-4
Session Three: Reflection by the Very Rev. Canon Gary Hall
| Chapters 5, 6 & 7
Session Four: Reflection by Missioner Gabriel Vasquez-Reyes
| Chapters 8, 9 & 10
Session Five: Reflection by Bishop John H. Taylor
| Chapters 11-12
Racial Justice and Reconciliation

We are committed to the effort to compile and develop resources to increase connection to each other and our world, equipping us to more fully embrace the transforming power of God's inclusive love" is part of the scope of work of One in the Spirit — our diocesan engagement across difference initiative.
At this moment in our history, there are no resources more crucial to that work than those which challenge, equip and empower us to dismantle the systemic racism that infects our nation, our church, and our world.
The Episcopal Church offers a list of resources for racial justice and reconciliation curated by members of the Presiding Bishop's staff: www.episcopalchurch.org/racial-reconciliation/resources
The Episcopal Diocese of Los Angeles provides links to active programs and resources on its Countering Racism, Building Community webpage: www.diocesela.org/countering-racism-building-community
In addition to these excellent sources for information and inspiration, One in the Spirit highlights and commends the following:
Articles & Essays:
Books:
How to Be an Antiracist – Ibrahm X. Kendi
| Kendi takes readers through a widening circle of antiracist ideas—from the most basic
concepts to visionary possibilities—that will help readers see all forms of racism clearly,
understand their poisonous consequences, and work to oppose them in our systems
and in ourselves.
The New Jim Crow: Mass Incarceration in the Age of Colorblindness – Michelle
Alexander
| A stunning account of the rebirth of a caste-like system in the United States, one that
has denied the very rights supposedly won in the Civil Rights Movement. Since its
publication in 2010, the book has appeared on the New York Times bestseller list for
more than a year — telling a truth our nation has been reluctant to face.
So You Want To Talk About Race – Ijeoma Oluo
| Ijeoma Oluo guides readers of all races through subjects ranging from intersectionality
and affirmative action to "model minorities" in an attempt to make the seemingly impossible possible: honest conversations about race and racism, and how they infect almost every aspect of American life.
I'm Still Here: Black Dignity in a World Made for Whiteness – Austin Channing Brown
| From a leading voice on racial justice, an eye-opening account of growing up Black,
Christian, and female that exposes how white America's love affair with "diversity" so
often falls short of its ideals.
Videos:
Leadership:
Staff officer: 
The Reverend Canon Susan Russell, Canon for Engagement Across Difference
srussell@ladiocese.org | 214.482.2040 ex. 223
Commission Chair:
Reverend Dr. Michelle Baker-Wright
Commission Members: 
Randall Day, Norma Guerra, Guan Luigi Gugiliemetto, Yein Kim, Brent Quines, Kay Sylvester, Fernando Valdes, Elizabeth Williams
Steering Committee:
Ms Rise Worthy-Deamer
Canon Suzanne Edwards-Acton
The Reverend Antonio Gallardo
The Reverend Norma Guerra
The Reverend Canon Dr. Gary Hall
The Reverend Peter Huang
Ms Karen James
Ms Wendy Lords
The Reverend Jennifer Wagner Pavia
The Rev. Canon Susan Russell, Canon for Engagement Across Difference, briefs Diocesan Convention on the new "One in the Spirit" initiative in November 2019 at Diocesan Convention.