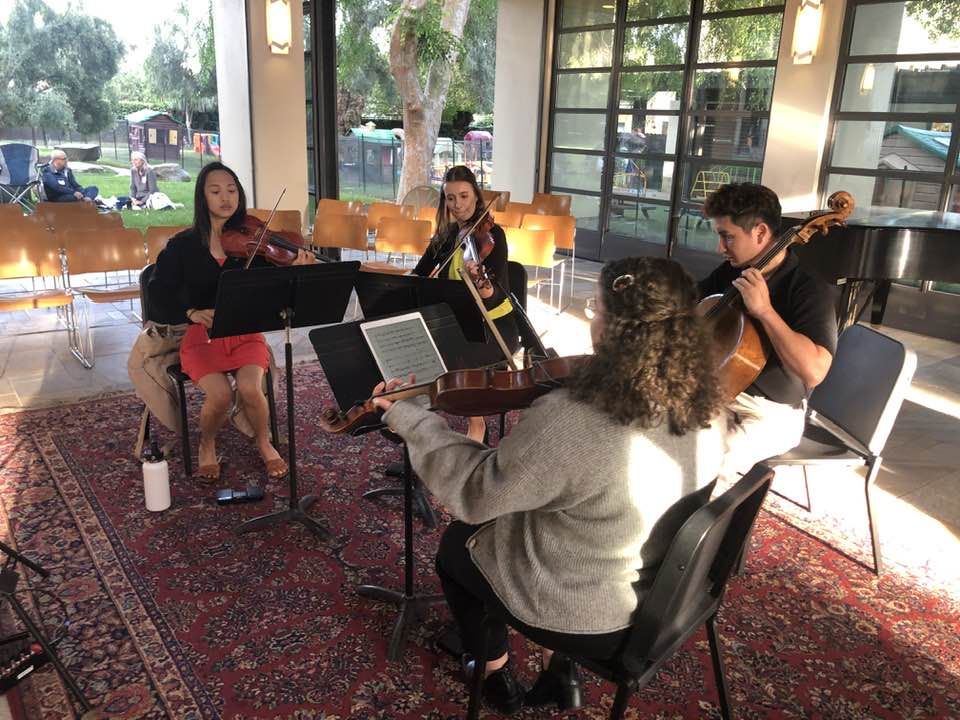 The Rev. Jeffrey Stoller Thornberg genially presided over a magical evening today at the The Church of Our Saviour in San Gabriel. One may even briefly suspend one's pessimism about the thriving of The Episcopal Church when the rector has to apologize for the parking lot being full on Saturday night.
Jubilee Homes at Church of Our Saviour, a legendary sober living ministry, housing 50 men and women at its four facilities, held its monthly meeting in the parish hall, enabling me to offer an impromptu tribute to its longtime director, the Rev. Bill Doulos, as he passes the reins to the Rev. Tim Hartley. A 12-step meeting was underway across the way.
Meanwhile COS, the Episcopal Church Foundation, and The Gathering: a Space for Asian Pacific American Spirituality joined in sponsoring a wonderful evening with Laos Chamber Music, founded by COS's staff cellist, Dustin Seo. First Dustin moderated a panel discussion with composer Nicky Sohn, soprano Kelci Hanh, and fellow cellist Niall Taro Furguson. Each spoke movingly about their personal and musical identities as members of the AAPI community.
As picnickers listened from the lawn, a wonderful concert followed featuring two of Sohn's works, an aria (from an opera she's working on) entitled "The Moon Above Keeps Watch Tonight" and a furiously inventive, indeed smoking piece for string quartet, "Burning," which the composer said was inspired by seeing a fire in the desert during COVID, the spicy Korean food she loves, and the burning feeling we get when bidding farewell to people we love.