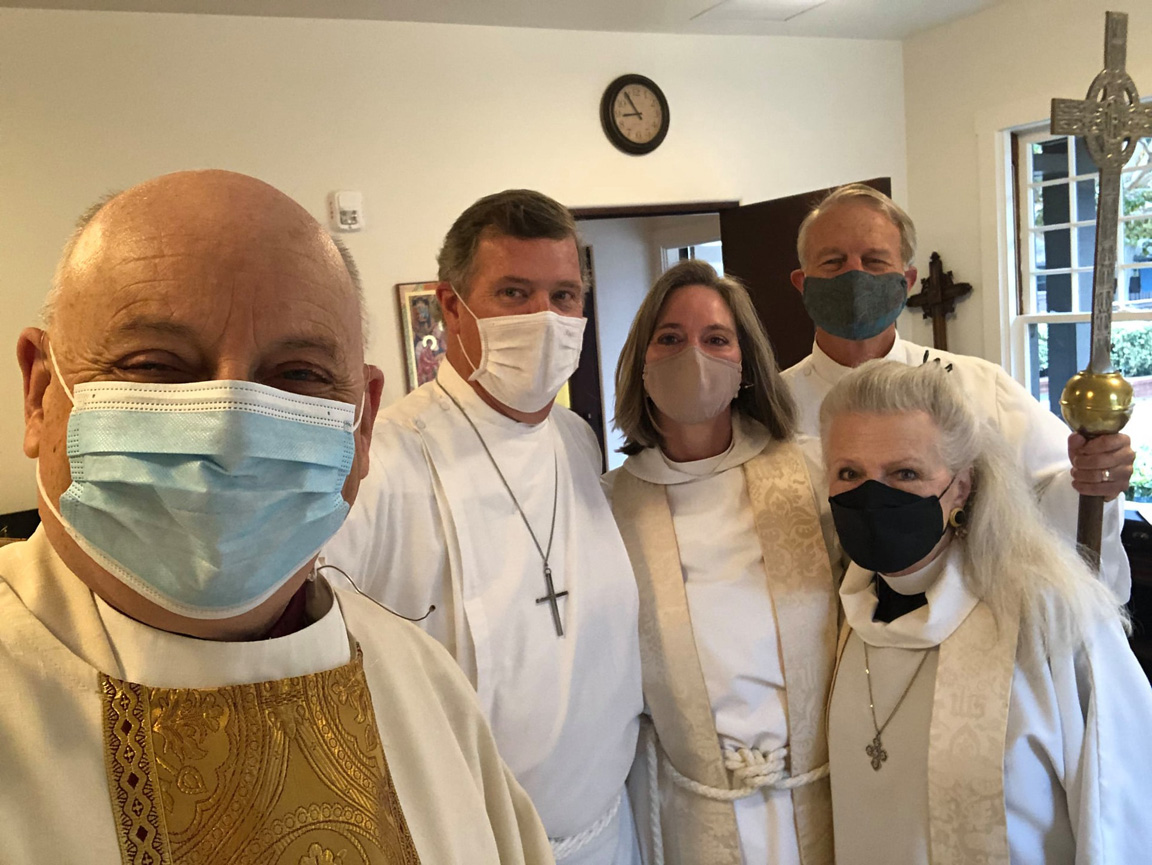 We gathered over 200 strong outside All Saints by the Sea in Montecito at 10:30 a.m. Sunday in a shroud of central coast fog, which was unusual for November but not unwelcomed by those who remember the fires that threatened this wood and stone church several years ago.
I knocked three times on the church door with Bishop Francis Eric Bloy's traveling crozier, leaving a dent after their 11-year, $11.3 million restoration and renovation project. We processed to Bruckner's "Locus Iste" — the chairs of the capital campaign, project manager Alyson Eyer-Delevett, rector and associate rector the Revs. Aimee Eyer-Delevett (who designed and organized the whole service beautifully) and Victoria Kirk Mouradian, my thoughtful chaplain, Trey Pinner, and I with the crozier, having already made my mark.
We rededicated the church, now 121 years old, and blessed the organ. Led by the children of the parish, we doused congregation members with holy water three times each and then blessed the new columbarium, where we unleashed the kids and their cups of holy water yet again, making a place of sadness also a place of celebration, as our Lord's Resurrection does. Other glories abound in the revitalized church, including a pass-though window that will be the envy of altar guilds everywhere.
Under the direction of interim music director Steven Thomson, supported by All Saints music director emeritus Nelson Huber at the new organ, the choir was magnificent, including during a communion anthem composed for the occasion by Daniel Mattix. Rev. Aimee baptized 10-month-old Caroline, who could not be contained and charmed everyone.
As I had at the 8 a.m. service, where 50 attended, I celebrated Holy Eucharist and preached. The All Saints parish standard, held in the photo by former senior warden Tom Mack, shows Christ's crown hovering between towering, threatening brown hills and angrier than usual Pacific waves. In January 2018, mudslides killed 23 people in this neighborhood. The waters flowed to the east and west of the church, preserving it as a refuge for victims and first responders, whom the church covered in blankets and love and filled with hot soup. Its bell tower disassembled and rebuilt, its foundations fortified, it will now stand between earth and water another 200 years, bequeathed by all the saints of All Saints to the saints to come.