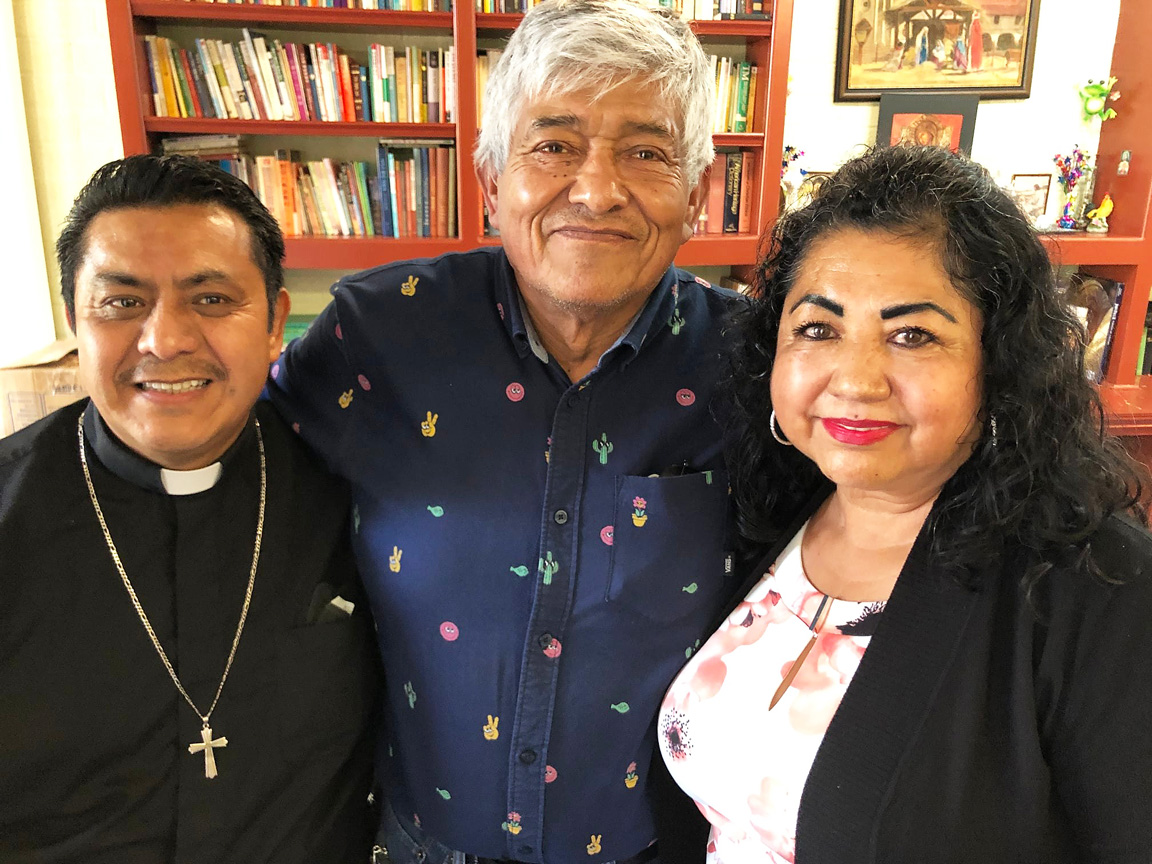 For 30 years, Kathy Hannigan O'Connor and I have been friends and, for much of that, colleagues of Bernardo Cruz, a facilities manager at the Nixon library in Yorba Linda, our old hang. Thanks to the hospitality of Saint Anselm Garden Grove, the Cruz family and I had an extended Nixon family reunion this afternoon. It was a special privilege to offer his eight-year-old grandson Isaac a blessing on his eighth birthday.
The Cruz collective are members of Parroquia San Judas Tadeo, which uses the St. Anselm's nave for Sunday afternoon services. At the request of our own the Rev. Roberto Limatu, we invited their priest, Fr. Ricardo Eliseo Aguilar, to our Episcopal Diocese of Los Angeles Holy Tuesday renewal of vows and chrism mass. At the reception afterward, he told me that Bernardo was one of his flock.
Fr. Ricardo's is one of those churches loosely described as old Catholic, though he told me that it's not part of the denomination which is in full communion with the Anglican Communion. (Do a Google on Union of Utrecht to hone in on our Old Catholics.) The Roman Catholic Church has at times suggested that these independent catholic churches were fraudulent. Sometimes Rome paints with such a broad brush as to mar unfairly the reputation even of Utrecht churches.
As for Bernardo's family, they're absolutely clear that Fr. Ricardo's is not a Roman Catholic parish. They left that behind in Mexico, they told me, and know where to find it if they want it. But they still like the ritual and mystery. Sound familiar, Episco-Pals?
Anyway, it was a joy to see Bernardo and his wonderful family this Eastertide as Fr. Ricardo gathered his flock for mass and, thanks be to God, a confirmation. So many of our missions and parishes are engaged in this practical ecumenism, inviting other churches to use our beautiful spaces. It was moving beyond words to find that the hospitality of the Rev. Dr. Thomas Lee and the people of St. Anselm's is helping enable an old friend and his beloveds to continue their pilgrim walk.