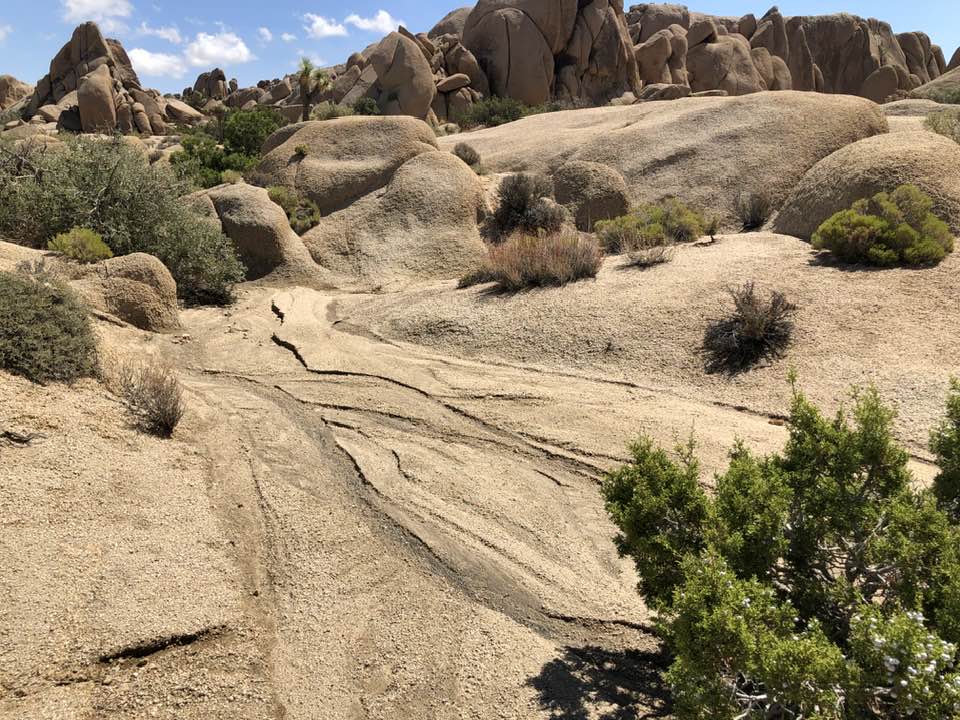 All creation was momentarily of one Accord Tuesday morning at the otherwise empty Cap Rock parking lot in Joshua Tree National Park, which had been closed through Monday on account of Hilary. I'd planned to spend these three vacation days in Twentynine Palms, hoping the park would be open but not counting on it. But the ranger at the east gate smiled at my senior national parks pass and bade me welcome.
About 12 of us had the place to ourselves. I crossed paths with a couple of European families whose itineraries had no doubt been planned long in advance. They experienced this beautiful place as few do anymore, since it's become so popular. At midday it was still under eighty, clear and fresh, with the air full of the smell of damp creosote.
I took the Skull Rock trail to where people build sculpture with rocks. Most were wind-scattered except for a heart and a big LOVE, which made me think about Presiding Bishop Michael B. Curry, for whom we're praying. I came back to the main road along a damp creek bed, newly furrowed. First time I can recall mine being the only footprints. Mary Austin's "land of little rain" had puddles in August. It was a hard rain, especially for Palm Springs and Cathedral City and our unhoused siblings, and yet perhaps a reprieve for the tender Joshua trees and all our fire-threatened desert landscapes and neighborhoods.
At Cap Rock's makeshift memorial to Gram Parsons, the folksinger and songwriter who died nearby in 1974 (he was in the Byrds and the Flying Burrito Brothers and helped launch the career of Emmylou Harris), where pilgrims and National Park Service sandblasters have vied for years, I could only make out the faint residue of a painted cross. No guitar picks or roach clips this time out. Maybe people will eventually give up. But I hope not. One of the virtues of satellite radio is that you can get it anywhere, even In Joshua Tree, which laughs at your cell phone. My favorite new song from this trip (probably old news to David Stevens) is Ray Wylie Hubbard's "The Messenger":
And all the true believers are out on the road tonight
And no matter what happens, you know they'll be okay
And to the rock and roll gypsies, may the last song you sing
Be by old Mr. Van Zandt if you find yourself out in Santa Fe
He doesn't mean Ronnie (whose last name lacks the "d") or Little Steven. Anyone?