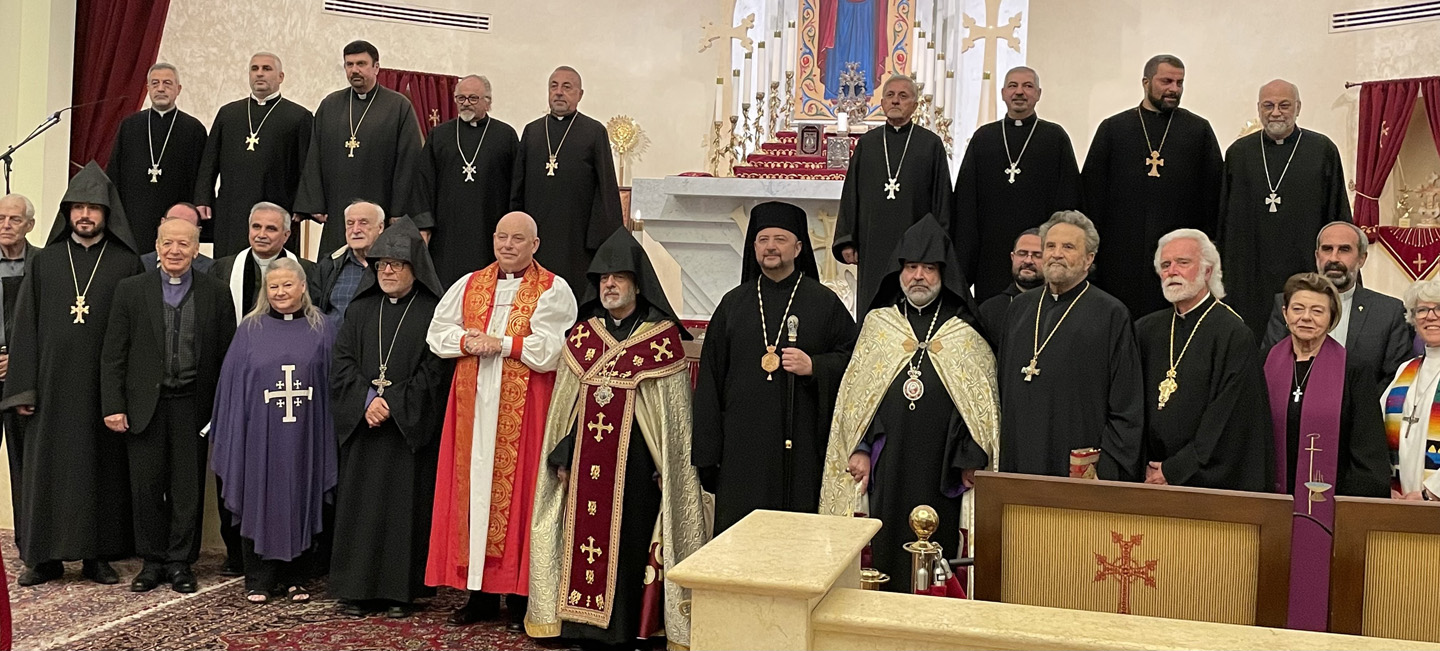 Archbishop Hovnan Derderian and his colleagues in the western U.S. diocese of the Armenian Apostolic Church offer an ecumenical prayer service each Advent and single out one of his ecumenical partners. This year, it was the Episcopal Diocese of Los Angeles, conferring on me the privilege of being the preacher at the service Tuesday night at beautiful St. Leon Cathedral in Burbank.
Appearing alongside the magnificent St. Leon's Choir, the Coventry Quartet of All Saints Episcopal Church Pasadena, with music director Dr. Weincheng Zhao, touched every heart with "Let All Mortal Flesh Keep Silence" and "Joy of Longing Hearts."
Always a joy to be with Bishops Bishop Brenda Bos (seen enjoying fellowship with Canon for Common Life Bob Williams), Mary Ann McDonald Swenson (shown with Canon Kathy Hannigan O'Connor), and Linda Lee Culbertson, a veteran activist and wise leader whose 30-year tenure as general presbyter of the Presbytery of the Pacific may well make her our unofficial dean. Over an agape meal of lentil soup and bread following the service, Kathy and I learned that Bishop Culbertson was born and raised in the L.A. harbor city of Wilmington and has close links with our mission church there, St. John's Episcopal Church + Holy Child Philippine Independent Church (pastored by one of Christendom's newest bishops-designate, the Rev. Gerry Engnan of the Philippine Independent Church).
The archbishop (to whom I had the pleasure of introducing our own Ruben Tomasian of IRIS – Interfaith Refugee & Immigrant Services and St. Mark's in Altadena) announced that next year's honoree is Bishop François Beyrouti, installed in October as bishop of the Melkite Catholic Church in the United States. His local dean and longtime friend is Fr. Alexei Smith, inter-religious officer for the Roman Catholic archdiocese and pastor of a Melkite parish in El Segundo.