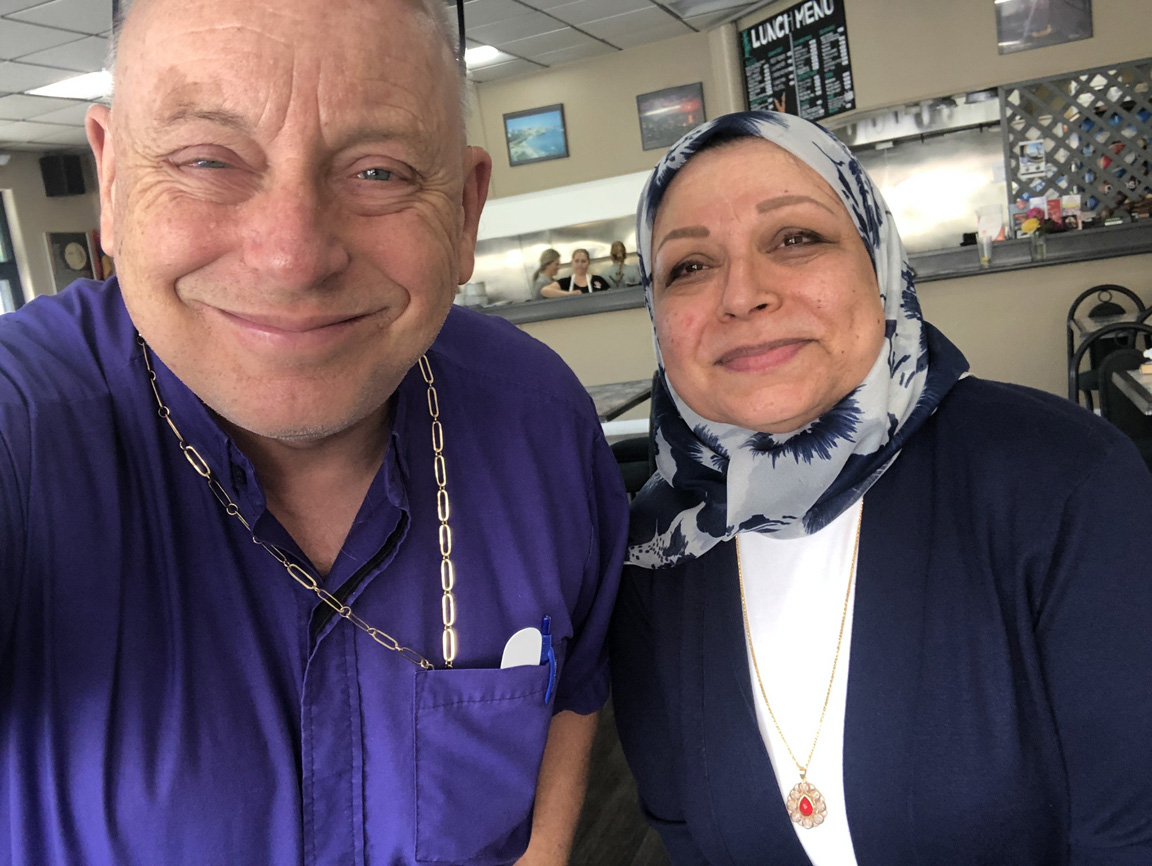 When Hedab Tarifi, born in Gaza, was becoming a U.S. citizen, an official asked her to pick a country of origin. When she said Palestine, he told her she had to pick Egypt, Jordan, or some other Arab country. Refusing to perjure herself as her first official act as a citizen, she stuck to her principles while using her extensive political contacts to circumvent the lower-level functionary — who had evidently been indulging his own bias, not following the rules.
Hedab is a brilliant IT executive. With her sister, a dentist, she emigrated to the U.S. after the first Gulf war. Like most Palestinians, she is used to hearing there's no such thing as Palestine. Tell it to the editors of my old King James Bible, which has an atlas labeling the whole region as Palestine. The League of Nations' Palestine Mandate is another giveaway. Hedab requires no more proof than the testimony of Palestinian relatives still living in Gaza, caught in a vise between Israel and Hamas, suffering with 52% unemployment and travel restrictions that have so far made it impossible for Hedab to visit home.
A pioneer for women as well as Palestine, she served as the first chairwoman of both the Muslim Public Affairs Council and the Islamic Center of Southern California (ICSC). We serve together on the informal coalition of the willing known as the Los Angeles Council of Religious Leaders, which RabbiSarah Hronsky chairs and Episcopal Diocese of Los Angeles Canon for Common Life Bob Williams helps coordinate.
We met today for a shawarma lunch at Sahara Restaurant in Pasadena so I could get her advice about Israel-Palestine, where hope for peace with justice is scarcer than ever. Palestinians in the West Bank haven't voted for 17 years, owning to the Palestinian National Authority's fear of Hamas. More and more Arab governments are siding with Israel, which drifts further and further to the right, neglecting its democracy for the sake of bolstering its Jewish identity. For whatever reason, President Joe Biden hasn't made the peace process a priority, although he is Gandhi compared to the prior White House occupant.
No one thinks Israel's military occupation, which dates from 1967, will last forever. Everyone fears Palestinians' patience will give way well before forever. Whatever happens, my first call will be to Hedab Tarifi.