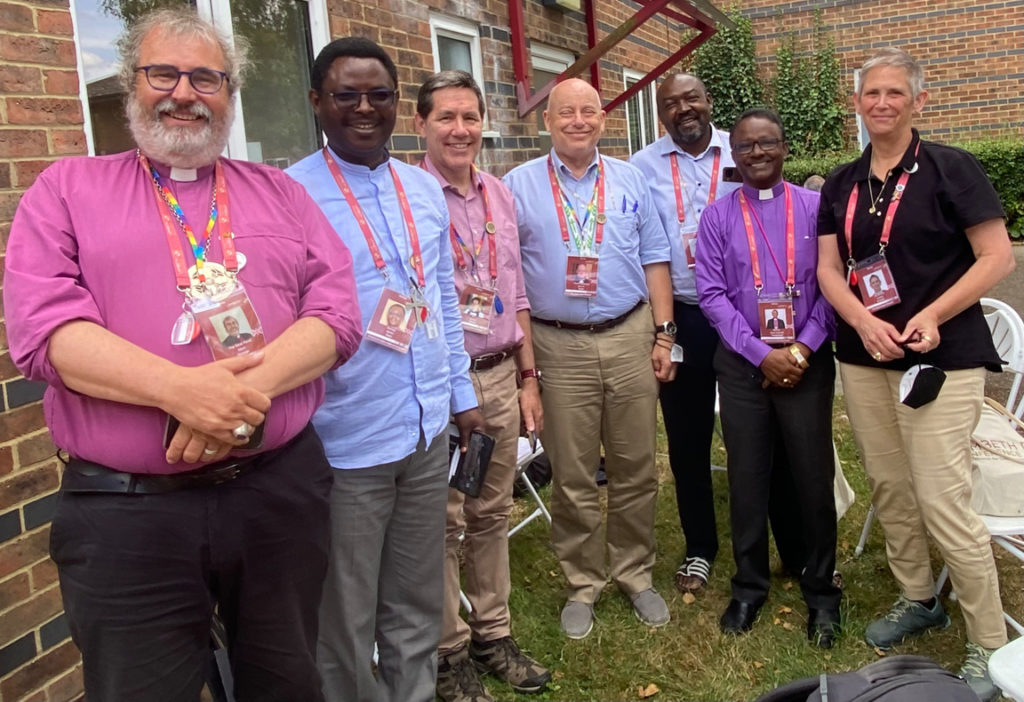 Bible teaching and study are at the heart of The Lambeth Conference, and most mornings, it's Archbishop of Canterbury Justin Welby getting us started, unpacking 1 Peter chapter by chapter.
Our theme on Thursday was suffering — and Welby was quick to say that suffering is not always redemptive or good for us. Romanticizing or fetishizing suffering, he said, can keep us from doing all we can to prevent it.
Video testimony he presented from around the communion was a heartbreaking anthology of preventable suffering, often the result of the insensitivity of power to human needs and dignity. A priest in Palestine defined suffering as "finding yourself disconnected from your history and culture and your future." A woman in Guyana said it was babies not having enough to eat. In Kenya, escalating food prices exceeding incomes.
We then take the conversation to our mid-morning Bible study groups. One of us is absent in the photo. I'll keep it vague for privacy's sake. On Thursday, one bishop said their personal energy costs had quadrupled since the Ukraine war started. They fear that when winter comes, people will have to choose between heat and food. Their people are independent and disinclined to ask for help. Unless someone intervenes, they fear people will freeze to death.
A bishop serving where Christians are in the minority talked about suffering the anxiety caused when an elected government is hostile to religious freedom. I talked about one of the richest regions in the world, the Los Angeles metropolitan area, being unable or unwilling to care for fewer than 100,000 people living on the streets. A bishop responded by saying that in their country, which adopted a zero-COVID protocol, officials figured out how to provide for unhoused people virtually overnight, offering food and shelter for months, since they were seen as a public health risk (to themselves and others). Once the pandemic waned, they were back on the street.
Against the inevitably of suffering, 1 Peter, and J. Welby, said we have the sword and shield of hospitality. "Above all," Peter writes, "maintain constant love for one another, for love covers a multitude of sins. Be hospitable to one another without complaining (4:8-9)." As he has throughout the conference, Welby stressed that experiences of suffering vary widely according to context. To those of us living in great privilege, he said, "we are called to imitate our God in Christ by moving toward those who are suffering." If we don't, he said, "when we put up walls and keep people away, our hearts become hardened to the world and one another."