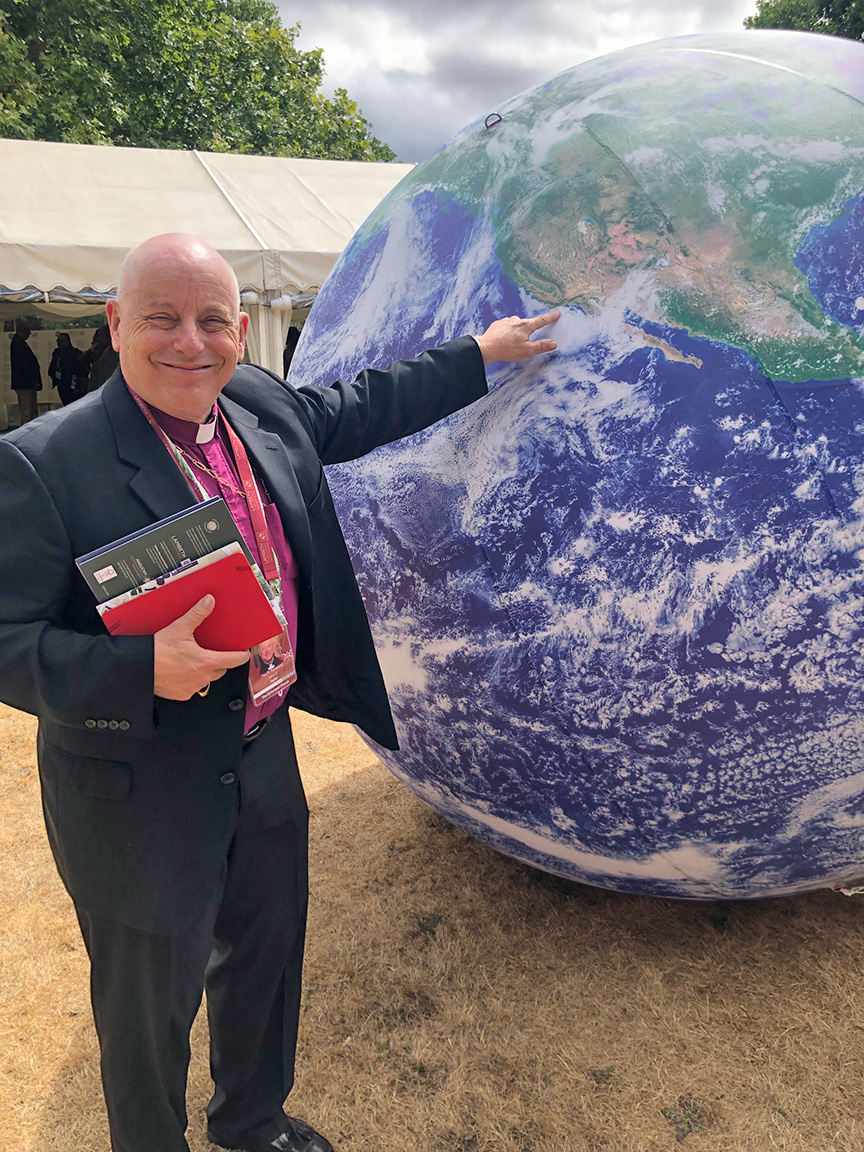 With 25 bishops, the Anglican Church of Southern Africa is well-represented at the 15th Lambeth Conference. As chair of the conference design group, Archbishop of Cape Town Thabo Makgoba presides graciously over most of our Lambeth Call sessions.
I've made some good friends in the delegation. Sister Patricia of the Community of the Holy Name, a member of the pastoral team, delighted me with stories of meeting Desmond Tutu. This afternoon at Lambeth Palace in London, headquarters of Archbishop of Canterbury Justin Welby and ABCs' official residence these 800 years, where the conference repaired en masse to discuss repairing creation, I met the genial Rt. Rev. Eddie Daniels, bishop of Port Elizabeth, a big seaport on the eastern cape.
In these situations, I always find it advantageous to drop the name Mackenzie, as in Edward, the late bishop suffragan of Cape Town and Tutu's friend and advisor. He served for many years in the Episcopal Diocese of Los Angeles, where I had the blessing to get to know him near the end of his glorious days. His daughter and grandson, the Revs. Vanessa Mackenzie and Lester V. Mackenzie, serve as parish rectors in our diocese. That cemented it with Eddie. He used to go to church with Vanessa, he said, and Bishop Mackenzie ordained him a deacon and, 13 days later, officiated at his wedding to Nicky.
Comparing notes, we found our lists of pros and cons about episcopal ministry pretty much coincided. He offered to take a picture of me pointing to our diocese on the Welbys' giant globe. That was fun, while reminding us of our island home's fragility as we pushed it around to find our places.
Indeed our day in London was both festive and substantive. We could feel the relief from getting over the hump on marriage equity Tuesday. It was our first full day with a vocabulary, provided by Welby, that may at last enable us to live and let live. We also heard bracing testimony about climate change, including from a young Kenyan activist, Elizabeth Wathuti, who called on bishops to use all our influence to address the crisis, which she said was endangering livelihoods and lives at home as well as in neighboring countries such as Uganda, Nigeria, and South Africa.
Inviting us to pray at five environment-themed spots in the Lambeth Gardens, Welby said that he'd never seen the trees so dry and brown this time of year. Read Lynette Wilson's report on the day for Episcopal News Service, including a video featuring climate change warrior the Rt. Rev. Marc Andrus, bishop of California, here.
We wandered, chatted, prayed, and helped plant a tree to launch the Communion Forest, a global planting and preservation movement. I'm eager to share the details with the Rev. Canon Melissa McCarthy, who convenes the Bishop's Commission on Climate Change. Over lunch, I had a fascinating conversation about, among other things, the Virgin of Guadalupe with theologian, scholar, and raconteur the Rt. Rev. Obispo Julio César Martín, bishop of the Southeast in Mexico, and his spouse, Imelda, priest and psychotherapist.
We heard greetings from Queen Elizabeth and the Secretary General of the UN. I got the Rt. Rev. Lennon and Hannah Chang and and our own the Revs. Fennie Hsin-Fen Chang and Katherine Feng, who are spending long days assisting them, in one photo. I got a few minutes to chat with our own the Very Rev. Canon Ian Elliott Davies, who has been vacationing in London and Wales. Learning I'd left my hat in my dorm room, leaving my head defenseless against the English sun, he brought me a spare. We wrote prayers that were posted in the garden before we left. We even got a boat ride on the Thames all the way to Greenwich, where we piled on buses to return to Canterbury.
A high point was my chat with Prof. Becki Sander and Judge Mohan Sharma, spouses of the Rt. Rev. Mary Douglas Glasspool and the Rt. Rev. Kevin Robertson, not invited to participate in spouse activities at Lambeth but liberated today, at least, so that they could join us in the garden.
What we didn't do was discuss or act on today's Lambeth Call, on environment and sustainable development, even though it was printed in our program. Owing to the excellent speeches we heard, we probably ran out of time. Not a word of it is objectionable. It too will go in the kitbag for our commission back home and also no doubt be a focal point of post-Lambeth discussions in our small groups.
But since the agenda is already full for the next few days, as we finish up before leaving Monday, I doubt we'll return to today's call during the conference. Which means now we have yet another way to send a call forward: Covering it with fellowship and joy around luncheon tables where — thanks to our work on Human Dignity — we may at last have gotten hold of the unity we will need to make a difference in the work of saving that precious tiny place in the vastness of creation which we all share.