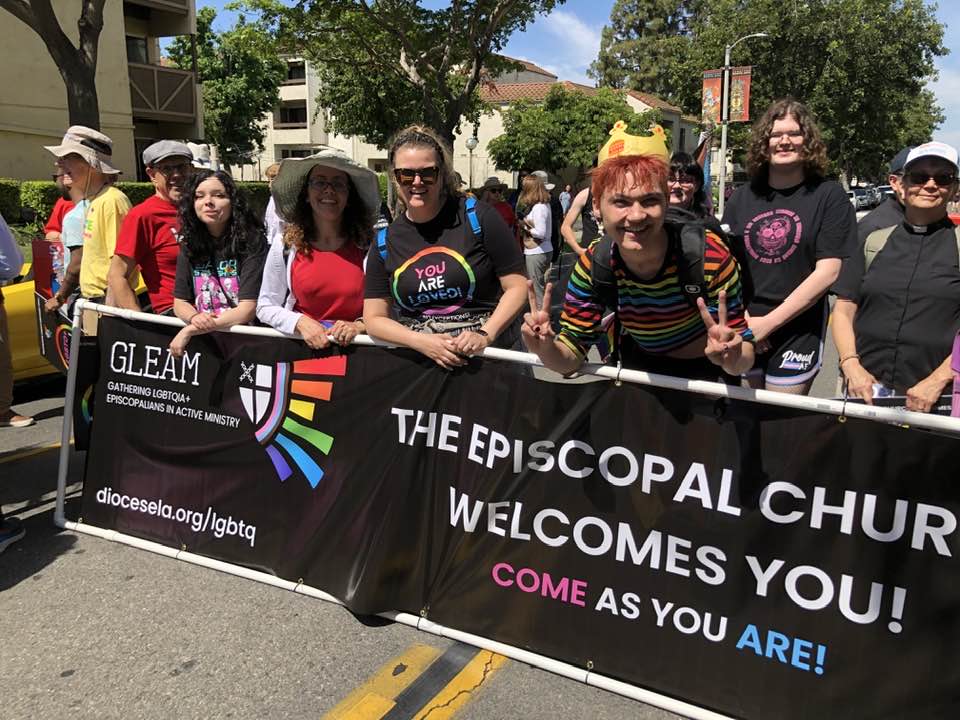 My scrapbook from today's OC Pride parade and festival on the sunny streets of Santa Ana, where Episcopal Diocese of Los Angeles missions and parishes were out in full force.
Many thanks to GLEAM Orange County and especially our dean, the Very Rev. Kay Sylvester of St. Paul's Episcopal Church, Tustin, CA, who joined me in presiding over a Holy Eucharist service outside near Episcopal Church of the Messiah – Santa Ana, CA (special thanks to the Rev. Abel Lopez). Our other Orange County dean, the Very Rev. Peter Browning, was also aboard, with a hearty contingent from St. Andrew's Episcopal Church, Irvine, CA.
I got to ride in a spiffy yellow Corvette and bust out "Happy PRIDE, God bless you" about two hundred times. What a great morning! GLEAM lined up right behind the Anaheim Ducks float (I got to fistbump Wild Wing themselves) and a group of performers from Morelos, Mexico, including the cutest little girls in the world, drummers, and chenelos dancers (including one honoring Bob Marley).
After the parade, I met a couple, David and Jim, from St. James by-the-Sea Episcopal Church in La Jolla, in The Episcopal Diocese of San Diego. A native Orange Countian, in an earlier life David was a pastor in an evangelical church. A few protestors along a side street served to remind folks of the work left to do.