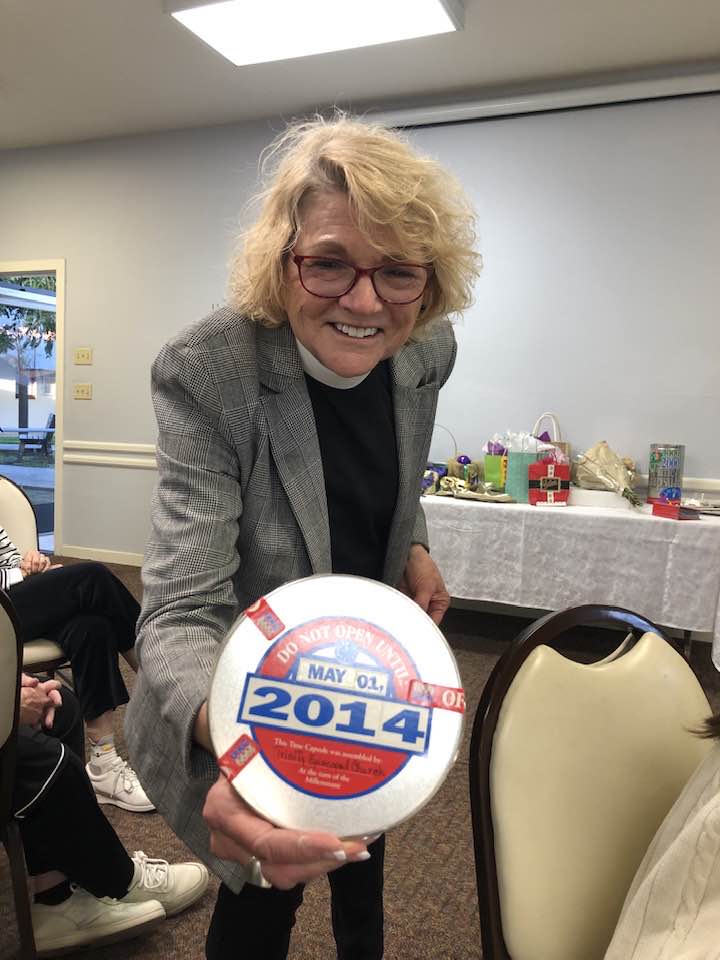 After spending nearly half an adulthood helping raise her sons, Jamie and Ian, Jeannie Martz, then living with her family near Chicago, had a bracing vision of helping raise hungry hearts heavenward — and doing so in a church where gender was no longer a bar to top leadership.
After seminary at Yale, Jeannie served parishes in Ohio and Florida before accepting a call to be rector at Trinity Episcopal Church in Orange. After over 15 years leading from the middle, as she calls it, gathering community and empowering others' ministries, Trinity is thriving — a big, busy congregation serving its neighbors while having a whale of a good time, thanks to the Trinity Players and other fellowship ministries.
As dean of all our parishes and missions in north and central Orange County, Jeannie took the lead role in writing our exceptionally clear, practical Episcopal Diocese of Los Angeles COVID protocols. Among the many highlights of her ministry was hosting an innovative exhibit, in the Trinity nave and youth center, of 125 breathtaking works by Russian-born artist Ludmila Pawlowska and traditional icons from Vassilevsky Monastery in Suzdal, Russia.
I was along Sunday evening, the last day of Jeannie's rectorship, as senior warden Lindsay Whipple, founder and board chair of the renowned Blessed Sacrament Children's Learning Center in Placentia, presided at a magnificent retirement dinner. Jeannie expected the party but not Jamie, Ian, and their families (and Ian's from the Bay Area). Besides copious gifts and tributes and a delicious spread, the evening included a photo booth and the ceremonial opening of a Trinity time capsule, intended for a 2014 reveal, that Jeannie found while packing her office.
It was a special joy to see Trinity stalwart Roy Wojahn, spouse of my beloved late colleague the Rev. Karen Wojahn. Orange City Council member Denis Bilodeau, also a Trinity member, and I also got to chat. We agreed on our admiration for his council colleague, and mine from Nixon library days, Arianna Barrios.
Tables overflowed from the parish hall into the patio, and tears flowed copiously even as laughter rang. A healthy, happy church bidding farewell to a beloved priest is redolent with rich, complex feeling. Members of course worry about the future. As part of my own tribute to Jeannie, I reassured them that the good work they'd all done together pretty much guaranteed that their transition time will be good as well.
The other good news is that Jeannie will stay in our diocese. She, her fellow Trinity pilgrim Rocky Covill, successor dean the Very Rev. Kay Sylvester, Canon Kathy Hannigan O'Connor, and I look forward to talking about the next season of her ministry some more when we're on pilgrimage together in Israel and Palestine next month.