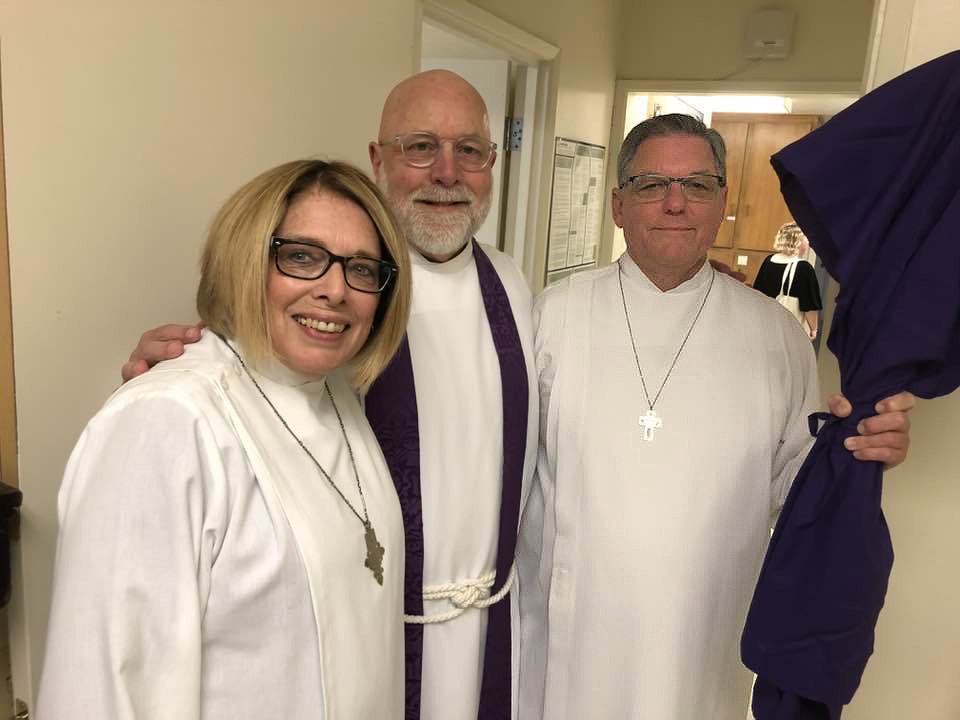 Ojai means moon in the language of the indigenous Chumash. The pretty town of 7500 hovers and glows 750 feet of elevation above and 30 miles north of Ventura. Driving up on Sunday for a visitation at St. Andrew's Episcopal Church Ojai, and maneuvering to avoid a marathon, I approached the back way, along San Antonio Creek, glimpsing snowcapped mountains with each turn.
Come here once or twice, and you understand why Ojai's residents love it. Our lunch conversation, in the parish hall after services, revealed related passions. As in many communities, housing politics is complex in Ojai as values collide such the needs of our housing insecure neighbors, environmental protection, and quality of life.
In my sermon, I'd mentioned affordable housing and Lenten reconciliation, prompting St. Andrew's members who have differed about the former to engage in exercises in the latter while tucking into the delicious potluck. I'm not sure we settled anything. But talking across difference about how to apply the biblical values we agreed on felt great, like church at its best.
Since last summer, the Rev. Bill Knutson has been priest in charge in his open-hearted and abundantly friendly way. He and his daughter, Claire, collaborated on the Children's Corner, removing a couple of pews in the back of the nave to create a space where kids can hang out during the service. Claire sourced a mini-library of children's books with a focus on inclusion, especially for the differently abled. She's also put out activity bags for families, inspired by Beth Kahler during the Knutson family's years at St. Paul's Episcopal Church, Ventura, California.
Fr. Bill designed a beautiful service for the first Sunday in Lent, including music from Taize and time for meditation before and during worship. Among the lectors was George Bohrer, who organizes the parish's Laundry Love ministry, begun during the rectorship of the Rev. Dr. Greg Kimura, now associate dean of Grace Cathedral in San Francisco.
Also on the altar were senior warden Linda Burr and Dr. Ewan Russell, a retired hospital chaplain who served as my Sunday morning chaplain. An amazing boon for St. Andrew's is that the Rev. Canon Anthony Guillen, The Episcopal Church's missioner for Hispanic/Latino ministry, and his spouse, Guadalupe, call it home. He offers a Spanish language service once a month.