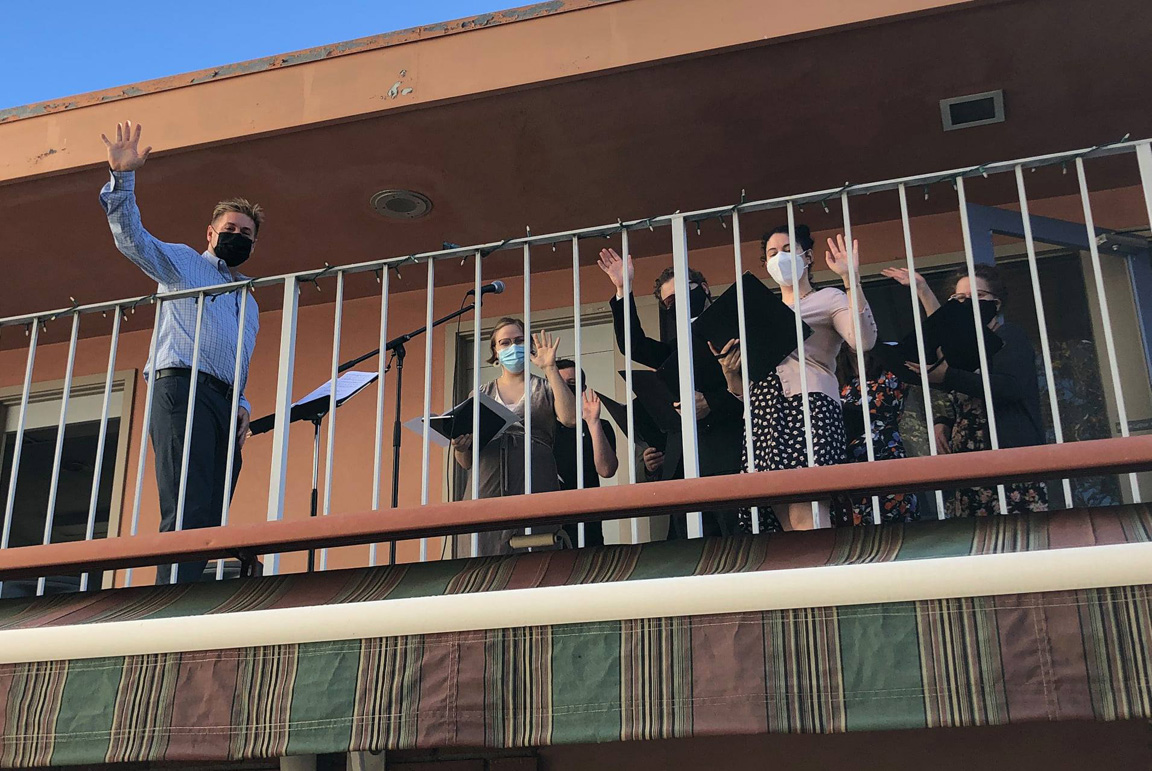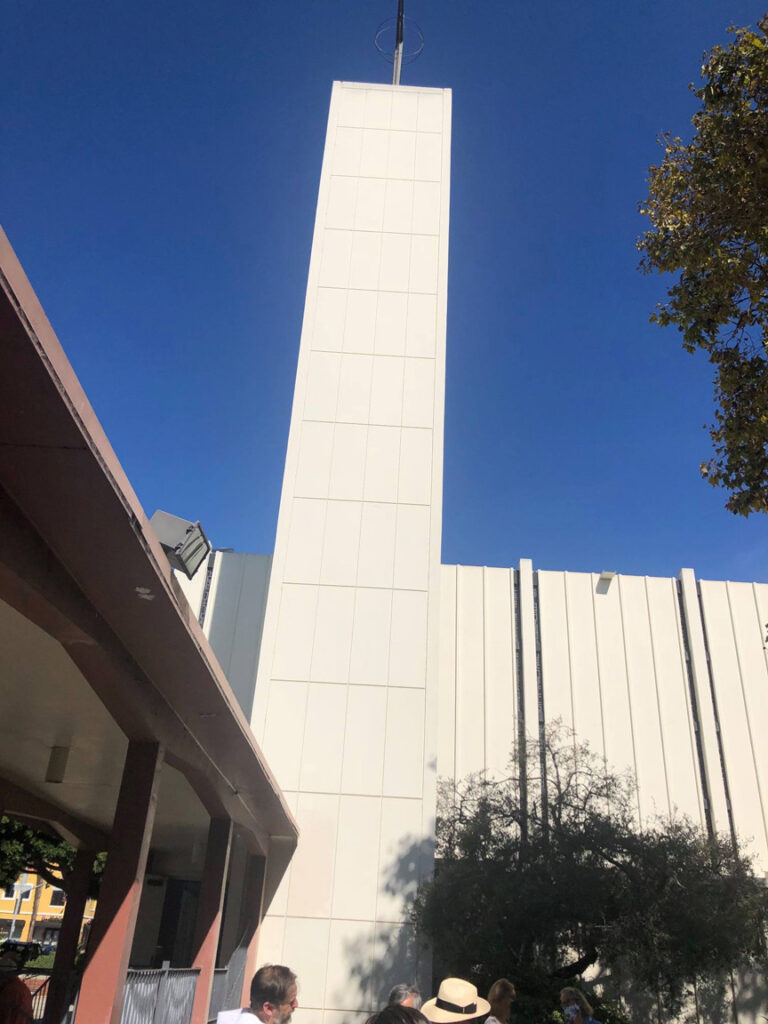 On the Sunday of Labor Day weekend at St Augustine by-the-Sea Episcopal Church in Santa Monica, more people worshiped in person and on-line than had, on average, pre-pandemic — and after an invigorating morning and early afternoon on campus, experiencing folks' warm beach city welcome at a church devoted to glorifying God and caring for God's people, I could see why.
These days St A's offers a 9 a.m. service on the sun-dappled courtyard grass, with director of music John-Kevin Hilbert, organist and pianist Greg Schreiner, and the magnificent choir positioned on a balcony, that much closer to heaven. Worship is inside at 10:30, with those out of town, or still more comfortable staying home, able to tune in on-line.
That means everyone got to hear mezzo-soprano Ariana Stultz's magnificent offering, as communion anthem, of the "Agnus Dei" from J.S. Bach's "Mass in B Minor." Get more details, including about mid-week services and meetings, here.
I was along to preach and celebrate at both services and, at the second, to participate as the Holy Spirit confirmed or received eight in The Episcopal Church — one who had taken over 20 years to make up his mind, another who serves in the Department of Defense and recently joined us after leaving a non-denominational church, two who wanted to align their faith walks with their spouse or partner, and two sisters who said their confirmation day prayers were for their grandmother in Michigan, just diagnosed with cancer.
Four others came forward for a blessing on their completion of EfM (Education for Ministry) over the last two years. Their St. Paul's Commons, Echo Park, graduation ceremonies were thwarted by the germ but not their resolve to be the well-educated Christians the world needs more than ever, to help treat our pandemic of spiritual hunger. And we bade farewell to senior warden Susan Marquis who, with her spouse, Chris, is moving to Alexandria to be closer to family members.
It was a joy to worship with fellow Bloy House, The Episcopal Theological School at Los Angeles stalwarts Gretchen and Peter Haight (Peter is leading a parish capital campaign), actor Sam Waterston and his spouse, Lynn, and other friends old and new.
Born in Bethlehem (PA), the Rev. Nathan Rugh has been rector ten years, coming to the Episcopal Diocese of Los Angeles after observing epic upheavals in the Episcopal Diocese of Pittsburgh over our church's intention to make all people welcome regardless of orientation or identification. Associate rector the Rev. Katie Cadigan has kept her innovative, cleverly named Divine Office ministry going despite COVID, supporting members and neighbors' spiritual lives while offering support in their secular vocations as well. My thoughtful chaplain, John Buckley, is a psychologist whose speciality was care of children suffering from trauma.
Both priests, with their congregation, share a commitment to social justice ministry, hence the church's unstinting support for CLUE: Clergy and Laity United for Economic Justice, Neighborhood Youth Association, Safe Place for Youth (S.P.Y), The People Concern, and Westside Food Bank. This fall St. Augustine's welcomes a new school tenant, Sycamore Community School.
As I left, facilities manager Dave Wulf gave me a copy of a brief history of the church, beautifully written many years ago by a member who served as managing editor of the Santa Monica Evening Outlook, R. D. Funk. It covers the church's founding in 1875, the dedication of its first building in 1887, and the rectorship of future Los Angeles bishop Robert Rusack.
The story's centerpiece is the March 1966 fire that destroyed the original, mostly wood building, set by an arsonist who must've known that 146 parish school students were on campus that morning. No one was hurt. The fire was out within 32 minutes of the call. It helped that the battalion chief on duty had attended a wedding at St A's a year and a half before. He realized the building was desperately vulnerable to a fire and spent the service thinking about how he'd fight it.
St. A's people had their new church up and dedicated by October of the following year. You can still feel that kind of energy and devotion when you visit these days, as a loving parish family returns from another year and a half in the wilderness, curious about what the Holy Spirit has in mind for them now.