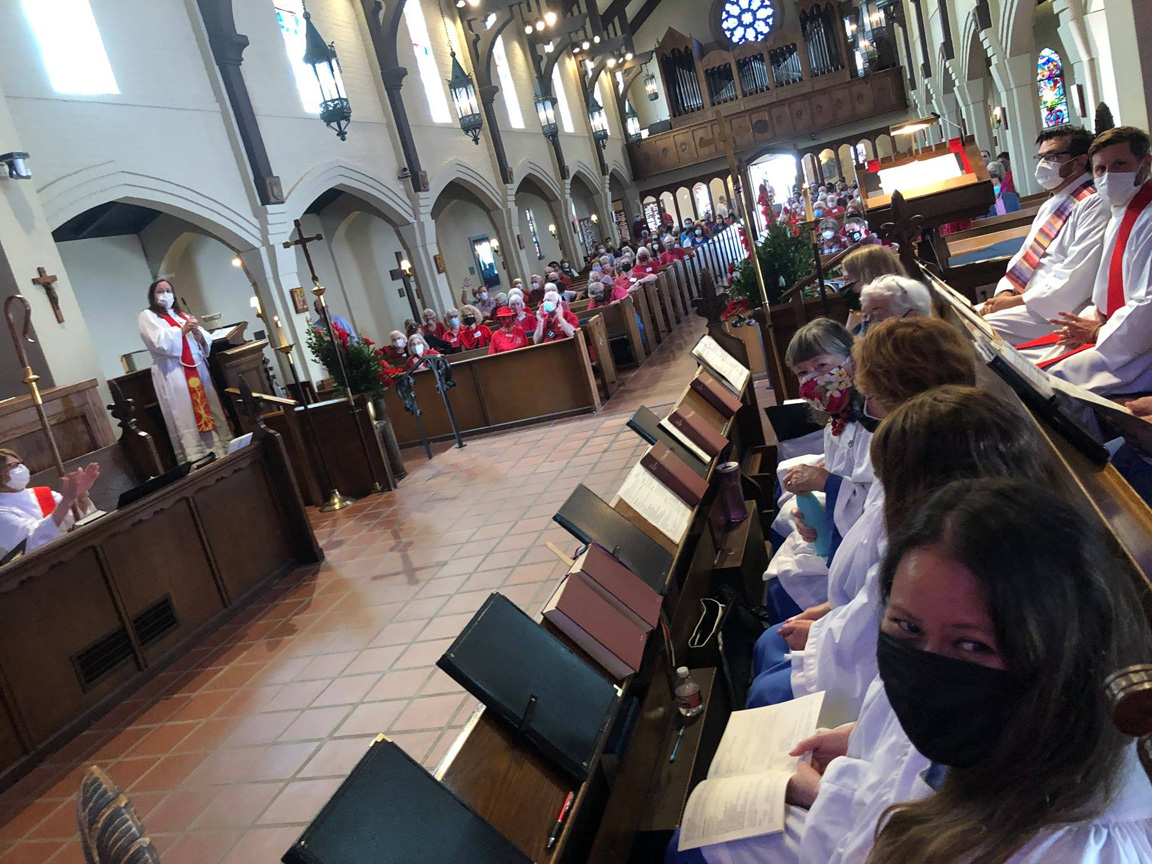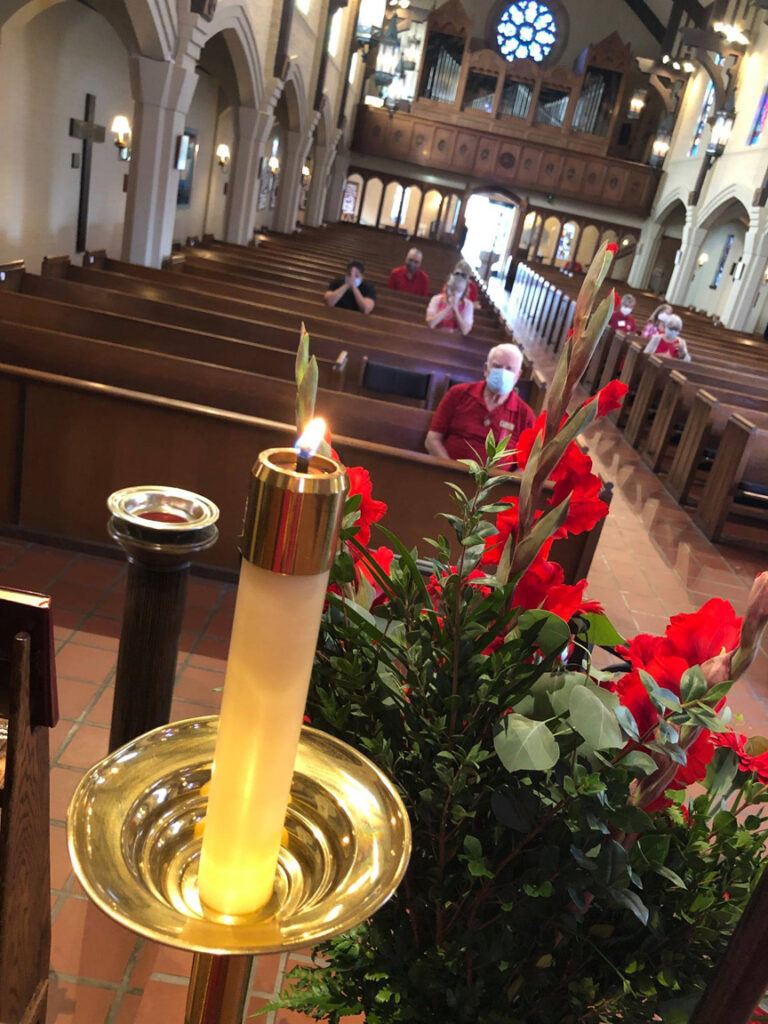 Holy Eucharist services at 8 and 10 a.m., the magnificent St. Cross choir fully masked and full-throated, acolytes trained with National Cathedral-like precision, and plenty of fellowship and food in the courtyard after each service — yes, St. Cross Episcopal Church in Hermosa Beach was back to new normal when I visited Sunday to preach, celebrate, and (the really fun part) hang out with folks.
The Rev. Dr. Rachel Nyback, the innovative rector, who deftly interweaves ancient and modern, was gracious host, assisted by associates the Revs. Stephen Smith and Joshua Paget. The Rev. Patti Angelo was my thoughtful chaplain. Sean Coburn O'Neal, organist and choirmaster, organized the music for my and our episcopal consecration service in July 2017, and his and the choir's ministry was just as glorious on Sunday. Priest in residence the Rev. Canon Robert Cornner's was one of the first faces I saw. It was a special joy to see diocesan leaders such as Canon Patsy McMullin Brierley, Sister Patricia Scott Terry, and Cameron Moorhead Johnson in their neighborhood.
Our agenda was full Sunday as we tried to make sense of the correlation between the Sept. 11 anniversary the day before and the parish's patronal feast, Holy Cross Day, coming up on Tuesday. A bright Sunday morning in church can't blot all the shadows. As at all busy parishes, St. Cross folks have had their share of losses in recent years. We talked about some of them as we sat in the sun with our donuts and sandwiches.
The urgencies of the pandemic have made life even more complicated. St. Cross has a "COVID Chronicles" project, inviting members and friends to share their wilderness experiences. Our understanding is that all our joys and sorrows, and especially all the lessons that come from our suffering, are no match for God's grace, especially when they teach God's people to love one another better, treat one another more fairly, and at least mitigate the suffering that we cause.
At least eight people told me they'd discovered St. Cross recently. The germ is powerless against the spirit of welcome as manifested at a wonderful parish like this. Our recessional hymn, for the feast day, was one of my favorites, "All Hail The Power Of Jesus's Name." "Oh, that with all the sacred throng," goes verse three, "we at his feet may fall." As we filed out, the big doors facing the sea were flung open. A man walking by heard the glorious music, the sopranos' descant soaring above everything. He stopped, turned toward the altar, and knelt on the first stone step.
Learn more about St. Cross and its ministries here.