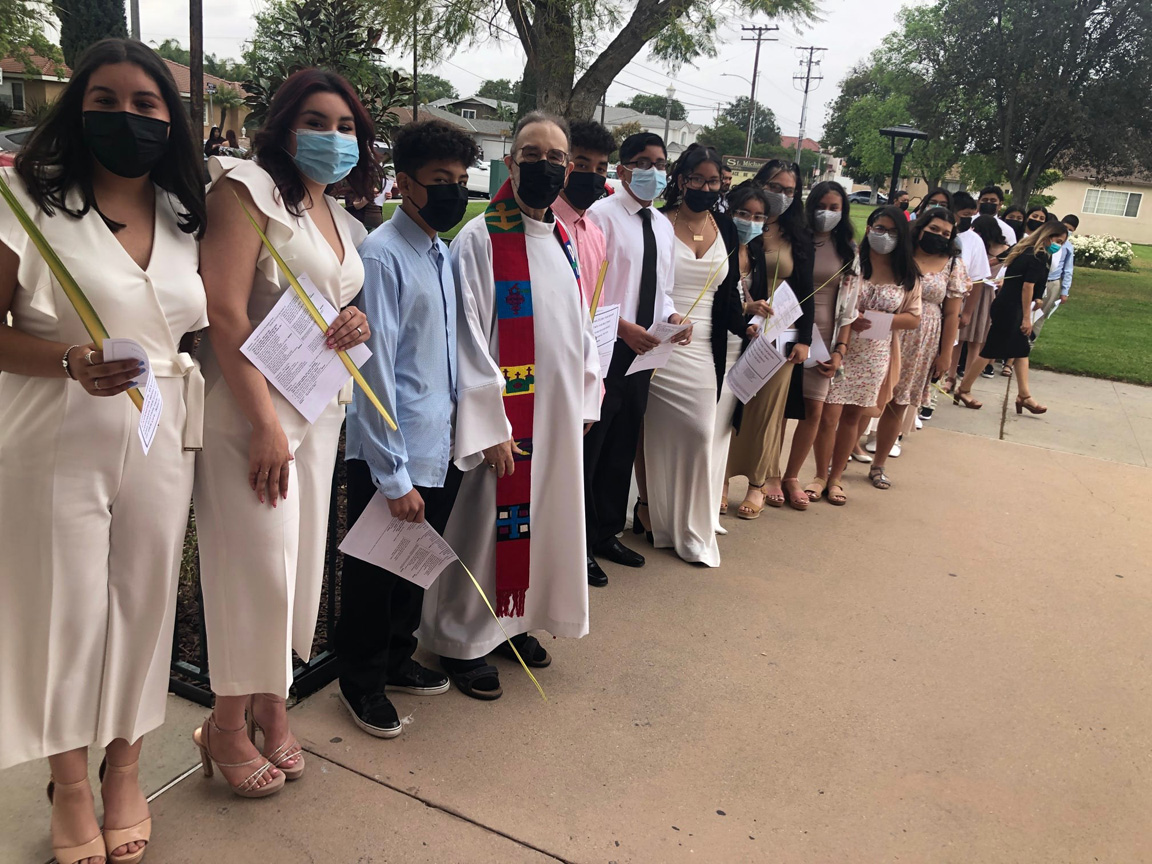 At St. Michael's Episcopal Church (Anaheim, California), the Rev. Juan Jimenez, its vicar of vicars, offers two services Sunday mornings, 9:30 a.m. in Spanish and 11:30 in English. I was along on Palm Sunday to preach and celebrate at both.
Yet almost all the older folks in both congregations were Spanish speakers from Mexico, some with more English than others.
Does that make sense? It definitely does, in the language of love. The second service, Fr. Juan said, is for the children and grandchildren, who often prefer worship in English. He believes they're more likely to keep coming to church if we respect their vernacular. The parents and grandparents come at 11:30 as a gift to the kids, enabling everyone in the household to be in church together. It reminded me of something the Rev. Canon Anthony Guillen told me over lunch recently. "It drives me nuts," he said, "when people say you have to speak Spanish to do Hispanic ministry."
Over 200 were in church for Palm Sunday, down from St. Michael's' pre-COVID levels, but recovering quickly. Fr. Juan had us in our masks. Because so many members are essential workers who live intergenerationally, the pandemic devastated this mission church. Sixteen people died, and scores more fell seriously ill. As we remembered and acknowledged these losses, the sudden shift from jubilation to Good Friday that occurs in our ambiguous Palm Sunday liturgy felt intrinsically right.
And yet in the end, joy was uncontainable. The two-acre campus was spruce after a work day last weekend, when friends from St. James Episcopal Church Newport Beach came alongside. Its vicar, the Rev. Canon Cindy Voorhees, is devoting her gifts as a contractor and designer to plans for affordable housing at St. Michael's to provide ongoing financial support for what is — by all the accounts Jesus audits — one of the most thriving churches in the Episcopal Diocese of Los Angeles.
And on top of all that, 24 young people stood at the altar at the second service as the Holy Spirit came down and confirmed them in The Episcopal Church. Jorge Moreno, confirmed in the seventies, reaffirmed his baptismal vows. After church people asked me to invite God's blessing on their trips to Mexico to see family, their health, their children at college. A gifted pastor, a holy priest, and one of my favorite conversation partners about politics and history, Fr. Juan presided beatifically, supported by his spouse, Jan.
My chaplain was Reyes Ortiz, assisted by his son, Diego, recovering nicely from a bad hop into his lower lip two weeks ago. There are virtually no Dodgers fans at St. Michael's, by the way; todos son para los ángeles de Anaheim. As baseball season gets underway, pray for easy grounders, and learn more about this wonderful church here.