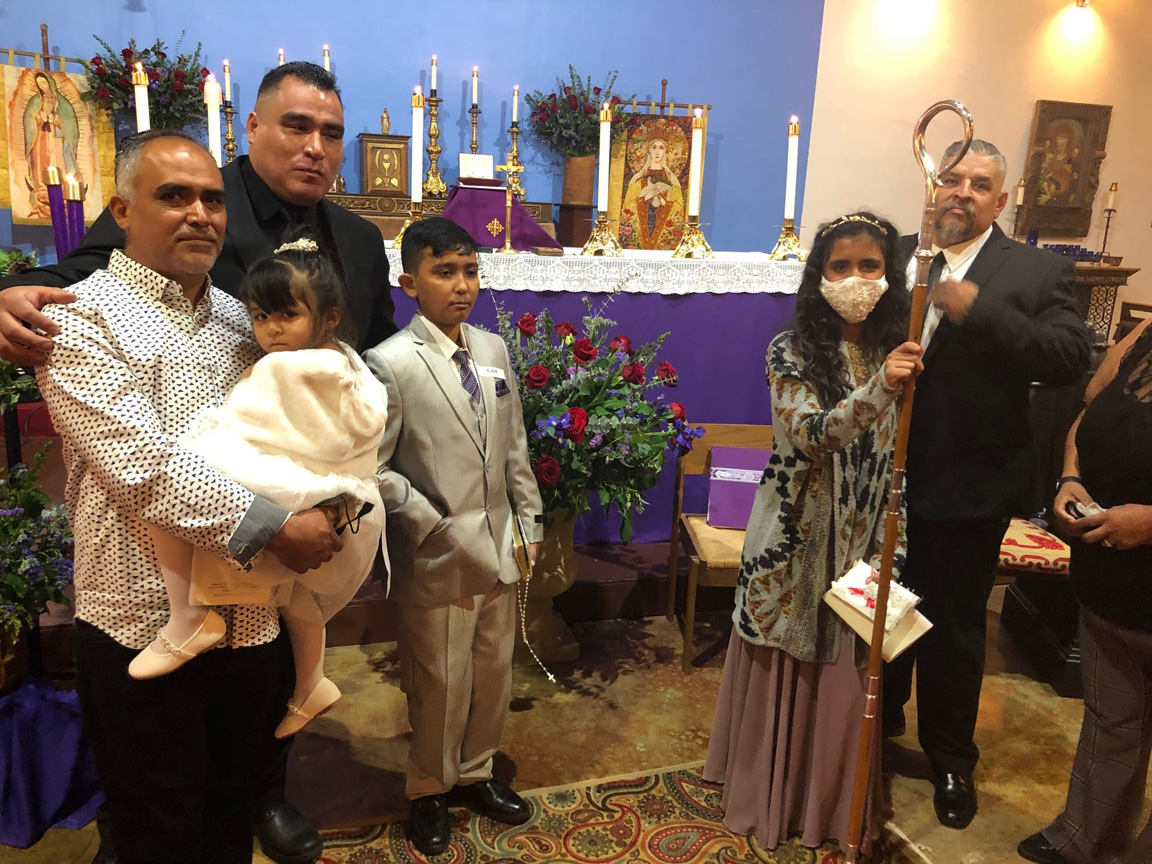 When I arrived this morning at Saint Nicholas of Myra Church in Encino, the Rev. Michael Cooper, priest in charge and rector since 2010, showed me some of the treasures gathered by the founding rector, the Rev. Canon Harley Wright Smith, famous for his ministry to Hollywood elite, who started the church in 1939. These included stations of the Cross, stained glass windows, and 19th century pews he'd found in his travels.
The church looked as well loved as any I've visited. When Fr. Michael arrived, it was painted white, which those driving by tended to overlook. It's now a more noticeable salmon pink. From Ventura Blvd., you can't see the spacious patio and playground the church shares with its longtime tenant, Los Encino School, considered one of the best private schools in Los Angeles. This morning the churchyard was filled with 26 confirmation candidates and their parents and sponsors along with five kids who were taking their first communion, along with their retinues.
Like his mentor and friend Bishop Jon Bruno, Fr. Michael is a former Roman Catholic, football player, and Burbank police officer. St. Nicholas is steeped in our denomination's Anglo-Catholic tradition, with ornate liturgy and accouterment and a stress on the Holy Eucharist as the central act of worship. Our bilingual service this morning was gracious and easygoing nevertheless.
I was along to preach, celebrate, cense up a storm, and join with the whole congregation in mediating the working of the Holy Spirit in confirming the 26. I asked each what was important about the moment and offered pastoral advice as I went along. Young people often mention the importance of being with their families. I urge them to remember the warmth of the day and the smiles on everyone's faces when they feel alone or overlooked, as they, and we, inevitably will. Jesus and the spirit of safety and love will be with us then, too.
Everyone took plenty of pictures after, and then it was time for pizza and sandwiches for lunch. Matthew Santiago, 14, was my devoted chaplain. Fr. Michael is assisted by the Revs. Vladimir Divas and Jose Cavalcante. Lupe Corona did the exquisite flowers. Senior warden Sue MacLaurin, daughter, granddaughter, and niece of senior wardens at other churches, was assisting everywhere at once. During church the kids were busy making St. Nicholas statues in honor of their patron, whose feast day is tomorrow.
St. Nicholas also has a deep commitment to serving the hungry and housing insecure. Read more about this lively, faithful church here.