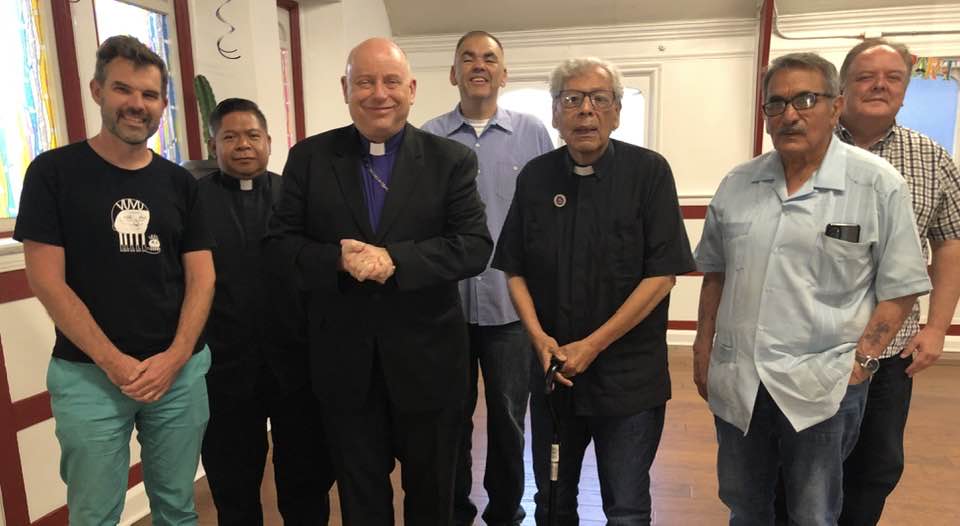 Over a half century ago, The Church of the Epiphany in Lincoln Heights was the epicenter of the farmworker justice, Chicano rights, and antiwar movements in Los Angeles. Cesar Chavez and other giants of the era felt right at home.
This evening priest in charge the Rev. Jose Garcia was our host as friends of Epiphany exchanged views during a strategy session for spreading the word about this historic church and its legacy. Honoring the late Canon Lydia Lopez, a leading friend of Epiphany, shown here with Chavez, definitely came up, along with panel discussions on immigration reform, voter registration drives aimed at young Angelenos, guided tours, exhibitions, youth events, and fiestas galore.
Other conversation partners were the legendary the Rev. Richard Estrada, assisting priest; Canon for Common Life Bob Williams; veteran community organizer, activist, and church curator Rosalio Munoz; bassist David Garcia; and church member Josh Garrett- Davis, a curator at the Gene Autry Museum of Western Heritage.