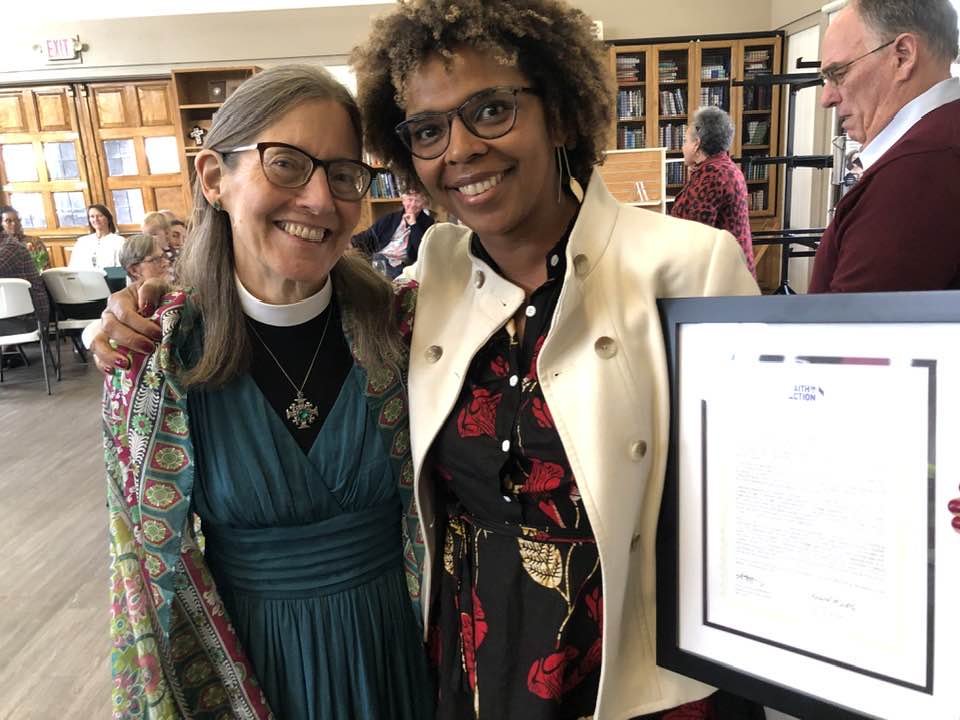 For the Rev. Jane Gould, retiring this Sunday after an abundant and eventful five and a half years as rector of St. Luke's Episcopal Church, Long Beach, gospel justice has been a lifelong vocation. Growing up in Washington. D.C., she marched with her mother and three elder sisters against the war in Vietnam, participated in Dr. King's Poor People's Campaign in 1968, struggled against apartheid in South Africa, and campaigned for gender equity in The Episcopal Church.
Ordained as a priest in 1986, she served congregations in the Episcopal Diocese of Massachusetts before being called to Long Beach in 2017. She and her husband, John, are both former members of the Phillips Academy Andover faculty, and their two sons grew up on campus. (I briefly regaled them with stories of my Andover underperformance a generation earlier.) In both dioceses, Jane has been a mentor to over 50 people called to ordained ministry. As a longtime member of the Faith in Action network, she models forming ecumenical and interfaith solidarity cohorts to battle food and housing insecurity and stand up for pay equity and just policing.
I was along Thursday night to speak at a gala reception as a hundred friends from and of San Lucas bade farewell. With Jane's dean, the Very Rev. Jeanette Repp, and other clergy colleagues looking on, admirers from Faith in Action and the mayor's office offered tributes. Representatives of the Spanish-speaking congregation praised Jane's sermons in Spanish.
Her self-styled COVID wardens praised her good natured, wise leadership in adversity. Thanks to her and St. Luke's' volunteers, the germ didn't keep its legendary shower and clothing ministry from its sacred work even one Saturday; they masked up but just didn't stop, with Jane pitching in to cover for volunteers who had to stay home for safety's sake.
Her and John's elder son Sam lauded her example of making a difference and leaving the world a little better than she found it. Near the end of the evening, champagne and equally attractively and prominently presented non-alcoholic options were passed table to table. The Rev. Fred Fenton, a St. Luke's member and a former rector of St. Augustine in Santa Monica, toasted her progressive gospel witness. Her successor as rector, the Rev. Antonio Gallardo (who joked that he'd thought at first it was a roast), had us lift our glasses a final time as he praised the legacy she and St. Luke's have left for the saints to build on.
Jane and John will live near family in Los Feliz, so look for them around Echo Park Lake, and, before too long, Jane around the Episcopal Diocese of Los Angeles. The way she talked about retirement in her eloquent valedictory, it sounded more like redeployment.