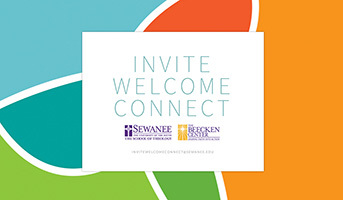 All Saints' Church, Beverly Hills, will host a one-day presentation of Invite | Welcome | Connect on Saturday, Aug. 25. Members of churches throughout the Diocese of Los Angeles are welcome to attend this informative and inspiring workshop.
Created by Mary Parmer and first developed in the Diocese of Texas, Invite Welcome Connect is now a national program that helps churches design and implement gospel-based ministries for genuine welcoming and connecting of new members. The workshop has been a transformative experience for scores of Episcopal churches.
Attendees will participate in hands-on training and creative idea generation using the Invite | Welcome | Connect check lists and ideas-resources pages. Suggested implementation procedures for this work are offered through the day, and best practices from congregations around the country currently doing the work are discussed. Congregations will do the small group work for themselves, and there will be time for reports from each group represented.
The day will begin at 8:30 a.m. with continental breakfast. The morning workshop will begin at 9:00 am. Lunch will be served at 11:30 a.m. The afternoon workshop will end at 3 pm.
Teams may include multiple representatives from each church, including clergy, vestry members, targeted staff, ministry leaders and anyone involved in newcomer ministry. The cost for each congregational team of up to five members varies from $150 to $300, depending on average Sunday attendance. For more information and to register, click here.