Andrew Tomat, an accomplished corporate development executive with a 25-year track record of growing Fortune 500 companies, has accepted Bishop John Harvey Taylor's appointment to serve as treasurer of the Diocese of Los Angeles.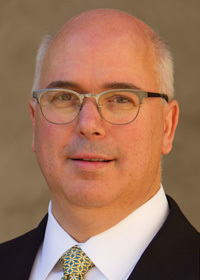 A member of Church of the Epiphany in Oak Park, Tomat brings considerable experience through his firm Four Pillars, named for "the four pillars of due diligence required in investment transactions: business, legal, audit and tax." In the past five years, Tomat has, on behalf of his company and clients, executed over $1 billion in transactions leading to $3.8 billion of added market value. A former church treasurer, senior warden, and audit volunteer, Tomat previously served the congregation of Christ Church, Redondo Beach under the leadership of the Rev. Canon Robert Cornner.
"During this time of transition, and in keeping with our commitment to greater transparency about diocesan finances, we are blessed to have Andy as our colleague in leadership," Taylor said in announcing the appointment March 28. "He will be the kind of treasurer who will tell us not what we want to hear but what we need to hear."
Bishop Suffragan Diane Jardine Bruce, who provides oversight to diocesan financial operations, joined in commending Tomat. "I am so pleased that a former congregation treasurer, finance professional and volunteer auditor has taken on the role of treasurer for our diocese," Bruce said. "Andy brings many gifts and skills to this ministry, not the least of which is a love of Jesus and the Episcopal Church."
The Rev. Canon Melissa McCarthy, diocesan canon to the ordinary, also attests to Tomat's qualifications. "Andy's excellent track record of parish leadership began first at Christ Church in Redondo Beach where he served both as treasurer and senior warden. His work at the Church of the Epiphany including advising the Bishop's Committee in some key financial decisions as well as being a constant source of support to the leadership there. Andy's skills and experience are well-suited for the work of the treasurer of the diocese; but most important is his faithful approach to the work he does. What a gift he will be!"
Diocesan Convention also elected Tomat – who served corporations including Teradyne and Canon – in 2017 to a four-year term as a trustee of the Diocesan Investment Trust. As treasurer, he will also participate in regular meetings of the Corporation of the Diocese and Diocesan Council, and he will work closely with the Rev. Michele Racusin, diocesan missioner for financial stewardship and chief financial officer.
"I have always believed that our call to stewardship includes clearly and transparently communicating how we are being good stewards of the financial and other resources entrusted to us. I know talking about money is something we Episcopalians struggle with," said Tomat, "but I look forward to helping Bishops Taylor and Bruce, Canon McCarthy and Rev. Racusin achieve this goal."
Tomat's diocesan service has also included his participation on the Corporation Sole Special Committee.
A graduate of Cornell University (physics and math) with an MBA from the University of Connecticut; he also helps mentor technology start-ups, as well as other organizations including the Caltech Entrepreneurs Forum.