For members of the Program Group on Ecumenical and Interreligious Life of the Diocese of Los Angeles, joining some 9,500 participants and volunteers representing 74 countries, 34 major religions and 349 sub-traditions at the Oct. 15 – 19 Parliament of the World's Religions in Salt Lake City was exhilarating, prophetic, hopeful and transformative.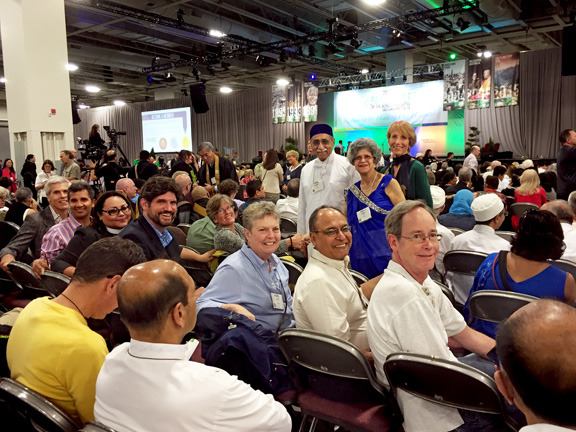 "Reclaiming the Heart of Our Humanity," the sixth such gathering in the organization's more than 100-year history, focused interfaith activists on finding common ground regarding such issues as anti-violence; economic inequality; hate speech, war and violence; human rights and the dignity of women; climate change; embracing emerging leaders; and the status of indigenous people.
Women's issues ran the gamut from Mormon women fighting for the right to be ordained in their faith, to those quietly bearing witness to their mistreatment in India, to women from the former USSR who spoke about the uneasy resurgence of Christianity in various countries formerly controlled by the Soviet Bloc, according to Bishop Suffragan Mary Glasspool.
"Most of us were there to learn something about the 'other' — other faiths, other peoples, other ways of doing things, other ideas," said Glasspool, whose oversight includes diocesan interfaith and interreligious relationships.
Networking with and reconnecting with colleagues similarly engaged across faiths and within one's own faith tradition was a high point, she said. "For example, talking with a colleague from New York who has worked since 9/11 to battle the equation of Islam with terrorism," another issue examined at the Salt Lake City gathering.
"Or connecting with the United Religions Initiative," a global grassroots interfaith network working for peace and justice and the common good, she added. "And seeing some of our colleagues of other faiths from the Los Angeles area and recognizing that we are committed on many different levels."
She and other Angelenos said the daily langar (open kitchen), a Sikh tradition of offering free meals to guests, was amazing hospitality.
"They raised $70,000 from donations and served about 5,000 people a day, 600 at a time," according to program group chair Ravi Verma, a parishioner at All Saints Church, Pasadena.
That's where chance encounters became prophetic moments, he said.
"Each of the meals I went to, I got to sit next to someone and hear their story, talk to them … the hospitality, it was a picture of what interfaith cooperation can do. It was selfless hospitality and service; it was incredible."
Networking: 'from prophetic to what's possible'
For Verma, the sheer numbers of the interfaith presence were overpowering. "There were a lot of prophetic voices there who really challenged us to look at issues of climate change, inequality, women. It really shook you up and at the same time these were voices of hope that people were doing so many wonderful things in collaboration. It almost felt like this shift from prophetic to what's possible."
Hope, for him, came in the form of enduring witness from both the younger generation, such as Muslim youth worker Eboo Patel, and the more seasoned, such as South African anti-apartheid activist Allan Boesak and Joan Brown Campbell of the Global Compassion Council, he said.
"All three of them spoke and you just felt the hope of how this work has been carried on for so long and it gives me hope for what our program group is trying to do in our diocese," especially engaging Southland congregations to sign onto the Charter for Compassion, Verma said.
Initiated by author Karen Armstrong and approved by Los Angeles' Diocesan Convention in 2014, the charter encourages individuals, groups, and communities to agree to live according to principles of compassion.
"We want to embody what the charter of compassion stands for and to encourage each individual to partner with people in their own community," Verma said.
Altogether the gathering "just gave me hope that we are not alone in doing this," he added. "They inspired me that this work is so important that none of us alone can do it but together we can definitely make an impact. We need each other to do this. It will take all of us working together to make a difference."
The Rev. Nancy Frausto agreed.
"Throughout the gathering I had such a feeling of hopefulness … hopefulness for our future," said Frausto, a program group member who serves two L.A.-area churches, Trinity and St. Mary's (Mariposa).
"Being together in such a grand way was a reminder that if we can learn to put our differences aside and simply love one another we can transform the world," she said in an email to The Episcopal News.
"Religious voices have power when we come together and we present to the world a message of unity. I was inspired to really make an effort to connect with my Future 50 cohort and work together on projects of social justice," she added. The Future 50 is a project undertaken by the USC Center for Religion and Civil Culture in partnership with the Interreligious Council of Southern California to discover, spotlight and provide support to a rising generation of leaders. The Diocese of Los Angeles is a partner with the Future 50 project.
Frausto said she believes it is time for the voices of progressive leaders of faith to "take center stage" instead of media focus on "the religious voices (that) are mainly represented by those using the bible and the church as a weapon to hurt, [to] reject … those who are different. It is time we reintroduce people to a God of love!"
Forward in faith: 'outside the walls of our own communities'
Author, diocesan lay leader and long-time interfaith activist Canon Kay Lindahl (see related story on page 13) inspired the Rev. Michael Fincher to participate in the Parliament, he told the Episcopal News.
"Attending it just seemed a natural extension of my own ministry in pastoring a blended Episcopal-Lutheran congregation, my involvement with the program group, and my role as president of the Santa Paula Ministerial Association," said Fincher, who is priest-in-charge of St. Paul's Episcopal and Emmanuel Lutheran Church in Santa Paula.
The diversity and size of the gathering, the sense of respect and love for one another and the shared concern was affirming, yet he had hoped for more practical solutions about a way forward, Fincher said.
"But," he added, "maybe that is because we all need to take away what we did hear and experience, process it, and figure out what we can or need to do locally in our own contexts, in our own worship and secular communities.
"We need to move outside the walls of our own worship spaces and worship communities, to experience God's community in all its manifestations," he said.
The gathering evoked the question: "How can I more fully live my faith in all aspects of my life?" he said. "I feel there is a profound shift in my spirit for having attended the Parliament of the World's Religions. I don't yet know what it means for my life and ministry. It will take a lot of time to process and discern how God was speaking through this magnificent experience."
While the Parliament represented an incredible array of faith experiences, the Hon. Joanne O'Donnell, a parishioner at St. James', Wilshire, and a Los Angeles Superior Court judge, noted an apparent underrepresentation of speakers or workshops addressing Jewish and Catholic concerns.
"There weren't a whole lot of Christian groups and very few workshops that had a Christian focus, whether mainline Protestantism or evangelicalism or even Catholicism," she told The Episcopal News. "There were lots of Eastern religions; there was a tremendous representation of Sikhs. To my mind, their presence was one of the most wonderful things about the Parliament."
Issues involving Mormon feminism and ordination felt particularly meaningful for O'Donnell.
"It was very interesting and very moving to hear from these women who feel they're not able to exercise what they genuinely believe are their spiritual gifts because the church won't permit it," she said.
Also particularly moving was a workshop "taught by a Canadian professor, a Muslim … (who) emphasized that extremist groups like ISIS do not take their direction from the Quran itself but from commentary on the Quran that has at various times over the centuries been very political. That's the source of the incitement to violence, not the Quran itself."
Commitment to the interfaith movement is important because, she said, "I have a great deal of faith in the ability of people of faith to bridge the gap to overcome conflicts and I want to be part of that."
The first Parliament of World Religions, in 1893 in Chicago, was considered to be the birthplace of the global interfaith movement. At that gathering Swami Vivekananda, Charles Bonney, and Susan B. Anthony were keynote speakers and the United States was introduced to many of the World's Eastern Religions — Hinduism, Jainism, Buddhism, Baha'i among them — for the first time, Glasspool said.
Subsequent gatherings were held sporadically, including one 100 years later, again in Chicago, in 1993; another in Cape Town, South Africa in 1999; in Barcelona in 2004 and in Melbourne, Australia in 2009.
Organizers are planning for a seventh Parliament in 2017 at a site yet to be determined, Glasspool said.
In the meantime, she said, "It is worth remembering that the subtheme for the 2015 Parliament of the World's Religions was 'reclaiming the heart of our humanity.' What is it we have in common? We're human beings. We want to deal with racism. We're members of the human race. We want to work together for a world of compassion, peace, justice and sustainability. How do we do that?"