Speaking with the voices of their traditions and their scriptures, eight Los Angeles religious leaders — Roman Catholic, Armenian, Jewish, Protestant, Muslim and Episcopal — stood shoulder to shoulder on April 4 and called on President Barack Obama and the U.S. Congress to pass comprehensive immigration reform.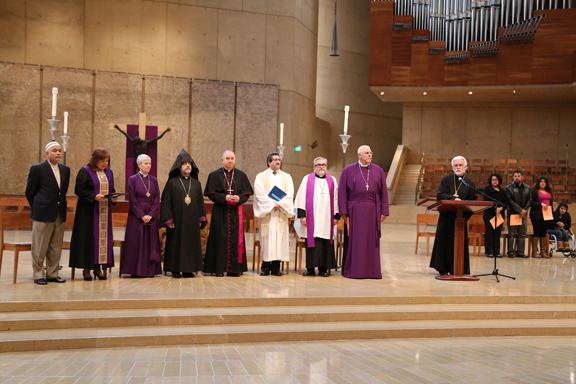 Bishop Diocesan J. Jon Bruno and Bishop Suffragan Mary D. Glasspool represented the Diocese of Los Angeles at the vigil of prayer and solidarity, which was held at Our Lady of the Angels Roman Catholic Cathedral in downtown Los Angeles and sponsored by the Los Angeles Council of Religious Leaders.
Bruno, as council president, read an open letter that asked President Obama and Congress "to enact humane bipartisan comprehensive immigration reform legislation that is consistent with not only our values as people of faith, but also our values as Americans. We recognize that family reunification is a core national value and interest, and we must continue our historic commitment to bringing families together." (A copy of the letter is here.)
"None have justice if we don't all have justice," Bruno added. "None have mercy if we don't all have mercy. None are touched by grace if we allow one person to suffer this degradation."
One by one, the leaders invoked the traditions of their faiths as they called for reform of U.S. immigration policies and a halt to deportation of immigrants and the breakup of families.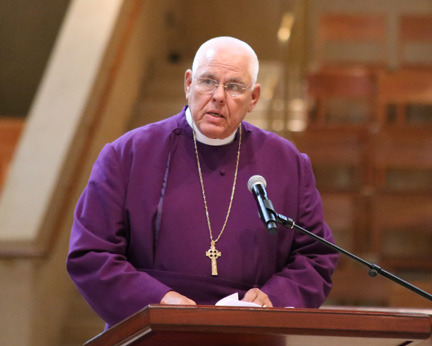 "We have a large underclass living in the shadows, on the margins, doing our work for us, but with no rights, no security, no health care," said Archbishop Jose Gomez of the Los Angeles archdiocese. "These are human souls, not statistics. We cannot be indifferent to their suffering."
An immigrant family, including a 21-year-old handicapped daughter, talked about the difficulties of living and growing up without legal status. The daughter, Gabrielle Perez, spoke from her wheelchair about citizenship classes she teaches, and volunteer work that makes her feel needed in spite of her illegal status and her lack of a college education.
Several of the faith leaders reminded their hearers that the United States is a land of immigrants and immigrants' children.
"The United States has been a place where those who aspire to live are welcome," said Bishop Guy Erwin of the Evangelical Lutheran Church, "where citizenship is open and attainable, where families are valued, and newcomers in every generation are valued for the cultural richness that they bring and contribute to our pluralistic society.
"Our faith traditions also require us to do social justice, to raise our voices as well as our hands," said Rabbi Mark Diamond of the American Jewish Committee. "When people ask me why, as a Jew, do I care about comprehensive immigration reform, I answer, because it is in our Jewish DNA. Our ancestors knew the pain and the anguish of oppression, of being unwelcome strangers in a strange land. We must never, ever do that to others."
Shakeel Syed, executive director of the Islamic Shura Council of Southern California and Bishop Minerva Carcano, resident bishop of the United Methodist Church, Los Angeles Region, both spoke of the 11 million immigrants now living and working in the United States under constant threat of deportation.