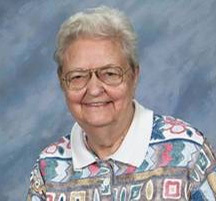 Irma "Babe" Story, a lifelong Episcopalian and member of St. Paul's Church in Lancaster, who flew "widowmaker" planes during World War II, was honored for her service March 10 with a Congressional Gold Medal.
Story, who was recognized for her service as a member of the Women Airforce Service Pilots  (WASP), was in Washington, D.C. to receive the honor and do a little sightseeing and could not be reached for comment.
According to the Congressional House record, Story grew up in the Antelope Valley with her brother, Tom, hanging out at the local airport running errands, and eventually learning to fly at Antelope Valley College.
She received her pilot's license at the age of 19 in June 1941, and worked at Lockheed's Vega aircraft factory in Burbank until joining the WASP program in 1943.
She flew the AT–6 and Cessna UC–78, and later the B–26", also known as "The Widowmaker," to prove to the male pilots that it was safe to fly. Her service, and that of other women like her, was crucial to the war effort.
Yet, after the war ended, they were quietly disbanded with no honors or benefits, and very few "thank you's."  It was not until 1977 that the WASP were awarded veteran status.  With this Congressional medal, the story of the WASP takes its proper place in the history of the Air Force, the history of aviation, and the history of the USA.
St. Paul's, where Story was baptized in 1925 and confirmed by Bishop Bertrand Stevens in 1934, is planning a special event on Sunday, April 18 to honor her.
"We will recognize her at the 10:30 a.m. service, giving thanks for her presence as a member of St. Paul's and for her work in helping to defend our country during the war," said the Rev. Nancy Brown, rector.
The diocesan community is invited to join the celebration.