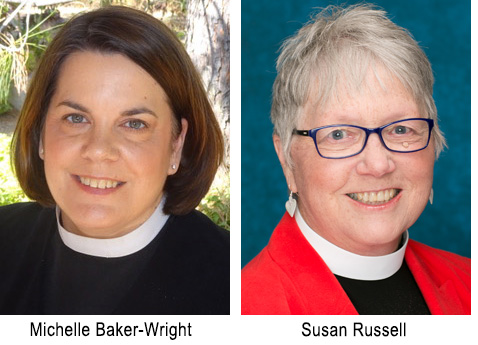 The Rt. Rev. John Harvey Taylor announced March 4 the formation of a Bishop's Liturgical Commission in the Diocese of Los Angeles, to be led by the Rev. Michelle Baker-Wright as chair. The Rev. Canon Susan Russell, diocesan canon for Engagement Across Difference, will be staff liaison.
Taylor established the commission help meet the need for liturgical resources in the diocese and also in response to a resolution adopted at the 79th General Convention of the Episcopal Church in 2018. The resolution recommended that next steps toward revision of the Book of Common Prayer begin at the diocesan level, with dioceses establishing liturgical commissions and engaging in liturgical experimentation and resource creation.
"I am delighted to take on this work," said Baker-Wright, senior associate for Christian Education at St. James' Church, South Pasadena. "I look forward to bringing people together from across our diocese to prayerfully discern how to shape our common prayer, and to envision ways by which we can offer our diocese's diverse liturgical wisdom to support the process of Prayer Book revision."
Three working groups will support the new Liturgical Commission in coordinating and planning diocesan liturgies (such as Diocesan Convention and Clergy Conference), providing online resources to congregations and responding the call to collate and commend expansive liturgical texts to the work of the SCLM (Standing Commission on Liturgy and Music) and the General Convention prayer book revision process.
"It is a great time to be an Episcopalian," said Russell, "and I'm excited to be part of the work of continuing to expand and diversify our liturgical resources here in the Diocese of Los Angeles and through our General Convention in the wider church."
Members of the new commission will offer a workshop titled "Words & Worship" at the March 7 Ministry Fair.
"I'm delighted that, thanks to a nudge from the General Convention, Los Angeles will again enjoy the blessing of a standing liturgical commission," said Taylor. "Among those I've had the joy of appointing are faithful ministers whose hard work has enriched our last three diocesan conventions as well as our recent clergy conferences. I look forward to all the ministry we will do together for the beauty of our common worship locally and around the whole church."
Baker-Wright, Liturgical Commission chair, earned her master of divinity degree at Fuller Seminary after working in higher education administration. She is a graduate of the Thornton School of Music at USC, with a major in flute performance. Last May she completed a doctoral degree in Christian Worship at Fuller, with distinction, focused on how music contributes to spiritual formation. She also is a member of the North American Academy of Liturgy.
As Canon for Engagement Across Difference, Russell leads the diocese's three-year One In the Spirit initiative seeking to promote the dignity of every human being, understand the barriers that separate people, overcome polarization and division, and promote connections among all members of the human family. A longtime advocate for the inclusion of LGBTQ people in the church and society, Russell has also served for many years as an associate priest at All Saints Church, Pasadena, and as a member of the legislative committee on Prayer Book, Liturgy & Music at General Convention.
More about the commission is here.