Standing at the site of the recent terror attack in San Bernardino, California, Episcopal Church Presiding Bishop Michael Curry and Los Angeles Bishop Jon Bruno on Dec. 4 called upon people of faith and people of good will everywhere to join together to end gun violence.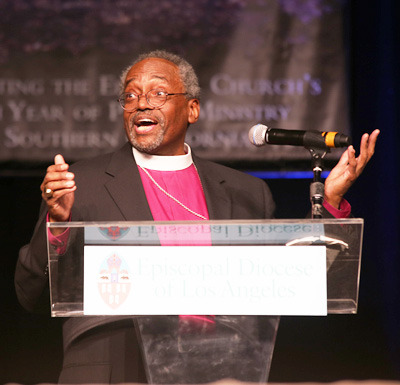 The bishops said they felt compelled to visit the site of the Inland Regional Center, where a couple with ties to terrorist organizations killed 14 and wounded more than 20 on Dec. 2. With helicopters circling overhead, and a continued heavy police presence at Waterman and Orange Show Avenue, the presiding bishop called for "prayer — prayer and action."
"Across the street you can see people praying," the presiding bishop said, pointing to a growing memorial of flowers, lit candles, balloons and makeshift signs with tributes to those who died and support for the community.
"But we can't stop there," the presiding bishop continued. "We have to rebuild. We have to move beyond praying to action, to action that moves us to make this no longer possible. We have to rebuild our society and culture from within on spiritual foundations and then we'll find a way to make this stuff history."
Los Angeles Bishop J. Jon Bruno said: "We are making a stand for doing away with senseless violence." Bruno, a former Burbank law enforcement officer and police chaplain, said: "I've experienced the pain of being on both sides. Having taken life myself as a law enforcement officer, I thought I needed to come here and pay respects to those people fallen by senseless violence."
The shooters were identified as husband and wife Syed Farook, 27, and Tashfeen Malik, 27. He was an employee of the center. They later died in a shootout with police. The FBI has said Malik had pledged allegiance to the Islamic State.
Employees of the Inland Regional Center were having a holiday gathering when the attack occurred. The center, a nonprofit, community-based agency, serves more than 31,000 individuals with disabilities in San Bernardino and Riverside counties.
Bruno said the attacks were not religious acts but rather "a crime of stupidity and hatred" and called for support for the families of the victims, for the community and for Muslims and all people of faith.
"This has nothing to do with religion," Curry agreed.
The presiding bishop was attending the annual convention of the Diocese of Los Angeles, meeting in Ontario, about 24 miles from where the shootings took place. The diocese is concluding a celebration of 150 years of Episcopal ministry in Southern California.
"I wanted to be here to remind people this is not the way, there is a better way," Curry said. He called violence an unfortunate pattern in society and said people of faith and good will must never give up or give in to the violence.
"Any time human life is taken it is contrary to what God intends for all of us. We are committed as people of faith to the way of love and the way of life."
That way, he said, includes honoring and making room for all people and it will take collaboration "to make this world reflect the values we all believe in."
At Convention: 'God has work for us to do'
Curry spoke to Diocesan Convention in one of his first official visitations since his Nov. 1 installation as spiritual leader for the Episcopal Church in 109 dioceses and 16 countries.
"God has work for us to do," Curry told the gathering of delegates in an address frequently interrupted by applause. "God has work for this diocese to continue to do. God has work for this Episcopal Church to do. God has work for us to do."
In an impromptu duet with convention musician Fran McKendree, Curry sang, "There is a balm in Gilead to make the wounded whole" — adding afterwards that when he was a rector in the Diocese of North Carolina he started two choirs, "but they never let me sing with them."
He summed up issues confronting the church as "e pluribus unum … out of many, one. We are God's human family and we were put here to care for each other and to care for this world, this creation, to tend this world and to transform it from the nightmare it often can be into the dream that God intends for it to be."
He said the church needs a CEO — a chief evangelism officer — because the work of reconciliation in some form is evangelism. "I'm not talking about evangelism as a way of expanding the size of the Episcopal Church. I'm not talking about reconciliation as simply getting more people to agree with us. I'm talking about the work of God, which is the work of inviting and bringing others into a real relationship with the God who loves us, and not telling them how to do it.
"As we grow closer to God we will discover that we really do grow closer to each other."
Curry noted that "God created us for each other … we were put here not simply to consume oxygen but we were put here to care for each other, to care for this world, to care for this society, to care for this social order — until justice actually does roll down and righteousness like an everflowing stream."
He shared the story of a photographic essay by Norman Gershman, founder of the Eye Contact Foundation to promote tolerance and understanding through portrait photography. Gershman traveled to Albania to photograph Albanian Muslims who rescued Jews during World War II.
"They did it because one of the leaders of their day sent the following order to the Muslim community; the order said the Jewish people are your people. They are to be your sisters, your brothers. They are to eat at your tables, to drink from your cups. The Muslim community of Albania saved 2,000 Jews."
Laughter erupted as Curry shared advice from his father, given as the younger Curry went off to college, that later become his own truth: "He said, 'I want you to treat every girl the way you want somebody else to treat your sister.' And I remember thinking, 'You have just ruined the next four years for me.'
"I had plans, I really did. But, the truth is I knew what he meant — that we are to treat everyone as if they are members of our own family.
"Show them the honor, dignity, respect that you want for your own family and then go out and build a society where every man, woman and child is a child of God. When we build a society like that, no child will go hungry. When we build a society like that, every man, woman and child will be loved and respected. When we build a society like that, we will not have to worry about gun violence anymore.
"When we build a society like that, everyone will know who the Episcopal Church is. And they'll know we are Christians by our love.
Personal reflections
With characteristic humor and wit, Curry took time out to share a few reflections with the Episcopal News.
About violence, especially after visiting San Bernardino:
"We can no longer wait for the luxury of the world to change itself. Dr. King once said that progress does not happen on the wheels of inevitability. It happens when good people come together and pray and work to change it.
"That has always been true and it's true now. And the cycles of violence are not going to change until good people of all religious types and stripes stand up and say enough. Enough. We're not going to settle for this. There's a better way and we're going to find it together."
"The truth is, there really are more people of good will and they come in all stripes and types but very often the people of good will are silenced by the louder voices and what we must do is find a way for what I like to call the sensible center to finally speak up.
"People of good will must stand up and be organized to stand up in positive and constructive ways. I'm very mindful that we follow a Lord who stood up. That's what he did and then says to us, 'now follow me.'"
On the priorities of racial reconciliation and evangelism: "I see the two as intimately related — if they are actually seen as what God is intending to do in this world, which is finding ways to reconcile us with God and therefore with each other. Evangelism and racial reconciliation are sister and brother. It's not about my making my religion bigger. It's not about getting everybody to come along and do it my way."
Quoting the spiritual "Just a Closer Walk with Thee," he added: "A closer walk with God is what we're talking about. The closer we walk with God, the closer we will be walking with each other. When that happens, you can call it reconciliation; you can call it evangelism. It's about God's incredible work of bringing the human family together.
"It's our job to help people find their way to God; it's not our job to tell them how to do it. Because when it becomes my job to tell them how to do it, then that's my agenda, not God's.
"Our primary job is to help people find their way into a deep relationship with the God who loves them profoundly and as we do that we'll grow closer to each other."
Impressions on his new role as PB
"It's only been a month and like anything, it's new. I've been a bishop for 15 years and a priest for more than 30, so I know a little something about the Episcopal Church.
"I'll learn as I go. But I really do think that we as the Episcopal Church … have an opportunity to articulate a way of being Christian that looks something like Jesus. And I think that is refreshing. I'm not saying we have a corner on that market. It's a way of being Christian that looks like the Jesus who is clearly defined by the way of love."
That way of love, of Jesus, the way of the cross "involves unselfish, un-self-centered love … and that is the reality that can change this world. Dr. King taught us that. Gandhi was getting at it. If you look at the wise ones through history, they were pointing at this. Sometimes they got killed for it. So this love ain't no sentimental thing … and yet it is the only way that I know of that can change the world."
What are the major challenges facing the church, facing Christians?
"I may get in trouble for saying this, but I don't think the prevailing issues that folk want to impose on us are the real issues — even remotely.
"The problem before the church is the problem before the world. The real dilemma facing us as a church is the dilemma facing us as human beings — will we fashion a way to learn to live together as brothers and sisters?
"Dr. King said it this way — we will either learn to live together as brothers and sisters or we will perish as fools. Chaos or community is the ultimate choice.
"Jesus has shown us a way to do that. Otherwise Armageddon — whether it is in ecological catastrophe or in some other form, will be upon us. I don't mean to get apocalyptic about it but it really is that critical. We don't have to go down that path. We have decisions to make."