St. Edmund's, San Marino will celebrate the last service with its longtime rector, the Rev. Canon George F. Woodward III on Sunday, April 29. All are invited to a luncheon reception after the 10 a.m. service to salute him and to celebrate his spiritual guidance as the parish's preacher, pastor, teacher and friend. Woodward has accepted a cure at St. Paul's Anglican Church, San Miguel de Allende, Guanajuato, Mexico.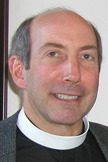 Woodward was called as St. Edmund's seventh rector in 1995. He also served for many years as chair of the Program Group on World Mission for the Diocese of Los Angeles and as the vice president of the international board of directors for Cristosal, a human rights-based organization centered in El Salvador.
Woodward was born in Pennsylvania and grew up in Columbus, Ohio. He received his bachelor's degree from Ohio University, a Masters in Theology from Ashland Theological Seminary and a Masters of Divinity from Seabury-Western Theological Seminary in Evanston, Illinois.
He was ordained in 1983 and served for five years as associate rector at All Saints-by-the Sea Church in Santa Barbara, followed by two years as assistant to the archdeacon of the Aegean, where he worked with Anglican churches and American military chaplaincies in the Republic of Turkey. Upon his return to the United States, Woodward served as rector of St. Timothy's Church, Apple Valley and dean of the eastern deanery of the Diocese of Los Angeles.
Together with the late Bishop Frederick Borsch, he is the author of Introducing the Lessons of the Church Year. His book The Prayers of the People, liturgical prayers keyed to the Revised Common Lectionary, was published in 2016.
For reservations for the April 29 luncheon, contact Debra Spaulding at dspaulding@socal.rr.com.