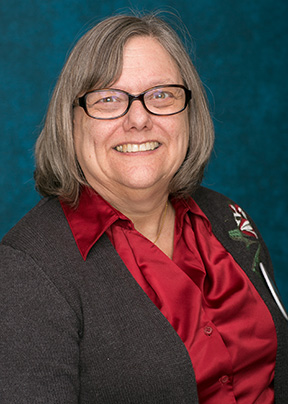 For more than a decade, the Very Rev. Sylvia Sweeney, Bloy House Dean, has shaped the lives and vocations of lay and clergy church leaders, powerfully preparing them for the future church.
When she arrived at Bloy House, also known as the Episcopal School of Theology at Claremont, or ETSC, "it was pretty much exclusively a place for forming people for ordained ministry," she recalled.
That was 11 years ago. "We expanded that to deal with the reality that leadership is not just about ordained people, that we needed to have opportunities for lay formation," said Sweeney, who has announced her August 1, 2020 retirement.
Seizing opportunities for accessible theological education in the Diocese of Los Angeles has involved creative and diverse partnerships with the Instituto de Liderazgo, the Li Tim Oi Center, and Fresh Start for Laity. "We've made it very easy to come and take classes as a lay person, and audit those classes and be deeply, deeply enriched spiritually," said Sweeney. "This will be a huge part of the future of Bloy House."
The Instituto de Liderazgo, or Leadership Institute, offers opportunities for students to take classes in Spanish and to learn how to provide pastoral care, intercessory prayer and healing ministries in their congregations.
Similarly, the Li Tim-Oi Center, established in early 2014, offers evangelism, church history, Christian education, bible study and pastoral care courses for Chinese congregations. Located at the Church of Our Saviour in San Gabriel, it is named for the Rev. Florence Li Tim-Oi, the first woman ordained a priest in the Anglican Communion, in 1944.
The Rev. Thomas Ni, Li Tim Oi Center director, said he has enjoyed working with Sweeney from the beginning. "We have very good communication and she understands the needs of our courses. I've learned a lot from her in developing these curriculums. I will miss her very much."
Fresh Start is a spiritual formation curriculum that helps equip dioceses, congregations, clergy and laity to grow during times of transition.
Los Angeles Bishop John Harvey Taylor, a Bloy House graduate, expressed gratitude for Sweeney's guidance.
"Sylvia's leadership has been a gift on many levels. The administrative challenge, keeping Bloy House moving forward without the endowment it has long needed, was full-time work by itself," Taylor said. "And yet she has also found time to be wise teacher, counselor, and theologian. I know I speak for my colleagues on the Bloy House board when I say that we will continue to be inspired and guided by her devotion to educating and equipping all the saints, lay and ordained."
Standing on 'sacred ground'
Guiding the seminary through tenuous times has meant multi-tasking as dean and president, academic advisor, dean of students, dean of the chapel, development officer, and faculty member. Sweeney embraced each role enthusiastically, but enjoyed a special passion for teaching and counseling students.
"I advise every student who comes through Bloy House," she told The Episcopal News recently. "I will cherish forever … all those students that I have come to love so deeply and have shared really powerful, important life experiences with, because that process of formation and growing into their vocations is sacred ground to stand on with them."
Her retirement comes at a pivotal moment as the 61-year-old seminary prepares to relocate to the Evangelical Lutheran Church in America's center in Glendale—a timely transition for both, Sweeney said.
To students, she has been a tough mentor, pastoral presence, and consistent cheerleader.
The Rev. Nancy Frausto, a Bloy House teacher, remembers an initial encounter with Sweeney while a prospective student, not quite convinced she was ready for the challenge of seminary.
"I was terrified, wondering, 'Am I smart enough? Can I really do this?" Frausto recalled Sweeney as pastoral, but very direct. "It was like, 'this is your call and you are going to do it.'"
She learned preaching and liturgy from Sweeney and graduated in 2013, but was surprised when invited to teach Latino spirituality. 'She instigated and pushed, and she was amazing," said Frausto. "I thank her so much because teaching the class has been a gift for me. She pushes me to have an impact for future clergy and laity, to expose them to what Latino spirituality and Latino ministry is, and multicultural ministry. We talk a lot about being multicultural and what that means for the future of our church."
Similarly, the Rev. Christopher Montella, rector of St. Stephen's Church in Santa Clarita, said he cannot imagine Bloy House without Sweeney.
"Part of reason I feel like I have any ability even to navigate this particular time we're living in, where the church changed dramatically overnight, is because of what Sylvia taught us," he said.
"We were prepared from day one of our experience for the fact that the church would not always look like it did" when he started at Bloy House in 2011.
Sweeney "wanted to make sure students were being formed for the church of the future, and not the church we grew up in," said Montella. "I held onto that in my heart every day." He considers her a strong mentor, and a wonderful counselor.
"I went through some very challenging times while a student and Sylvia really showed
up for me and helped me not fall apart," he recalled. "And that's a kindness and a gift from her I will never forget and will always cherish."
Now a board member, Montella marvels at Sweeney's continued commitment to and belief in the school's alternative model, adding: "If it weren't for Bloy House, I don't think I'd be a priest today. Going to a full-time, residential seminary was not a financial option for me."
Canon Steve Nishibayashi, diocesan Secretary of Convention and Bloy House board vice chair since 2005, said Sweeney nimbly balances tradition and the future.
Her tenure, however, has not been without challenge. "Bloy House lives from paycheck to paycheck, student tuition to student tuition. Yet, she's been very deft at handling those things" while staying focused on the school's mission to provide an alternative and valuable educational experience, he said.
"She's rightfully proud of the kinds of education these weekend warriors have, for years, gotten and will continue to receive."
Board member and retired diocesan archdeacon the Rev. Joanne Leslie agreed.
Bloy House trains deacons and priests together, immersing both in collegial community.
Sweeney's flexibility and openness has made collaboration easy, she added. "She has, more than a lot of priests, a deep understanding of and appreciation for the diaconal ministry and what makes the deacon's vocation different from, but also extremely important to, being the church in the world."
A new day, a new identity for Bloy House
The school officially will move June 25 – 26 to a new campus and a new partnership with the Evangelical Lutheran Church in America (ELCA) center in Glendale.
The transition to a new location became necessary when the Methodist-affiliated Claremont School of Theology, where Bloy House has been resident for nearly 50 years, announced its move to Willamette University in Salem, Oregon.
Sweeney said the partnership with CST will also continue. Bloy House classes are held on alternating weekends between September and May. The school, named for Francis Eric Bloy, third bishop of the Diocese of Los Angeles, was founded in the late 1950s as a weekend program for working adults interested in a theological education.
Students may opt for a master of divinity degree that is completed through CST, or an Anglican Studies program.
In retirement, Sweeney expects to be busy, to continue teaching and preaching, and to focus on writing.
She was ordained a priest in the Diocese of Florida in June 1985. She graduated cum laude with a bachelor's degree in social work and psychology, and also earned a master's degree in counseling from Florida State University. She received a master of divinity degree in May 1985 from Seabury-Western Theology Seminary and a Ph.D. in liturgical studies from the Graduate Theological Union in 2007.
She has served congregations in the dioceses of California, Idaho, and Montana, and has taught in Oregon, Florida and Montana.
A book she co-edited, In Spirit and Truth: A Vision of Episcopal Worship, is slated to be released by Church Publishing in December 2020. She and the Rev. Bob Honeychurch have been married 35 years and have a daughter who lives in Ottawa, Canada.
The Bloy House board of trustees has formed a search committee and aims to have a new permanent dean in place before fall of 2021.
In spite of the present challenges of the COVID-19 virus, she has great hope for the future. 'If we will follow the Spirit, there are wonderful, exciting days ahead for the church," she said.