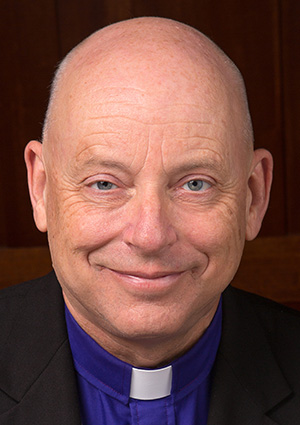 On March 5, Bishop Diocesan John Harvey Taylor issued the following directive to the diocese concerning wine at Holy Eucharist.
This message appears in Spanish after the English text.
Este mensaje aparece en español después del texto en inglés.
To the People of the Diocese of Los Angeles:
Greetings in the name of our Lord Jesus Christ.
This message comes with the assurance that Bishop Bruce, Canon McCarthy, and all of us at St. Paul's Commons pray for you daily, all the more so amid the emerging crisis posed by the threat of the novel coronavirus.
I hope you had the opportunity to read, mark, and inwardly digest Bishop Bruce's February 26 letter about the common-sense steps we should all take, including frequent hand-washing with soap and water, sneezing into the crook of the arm, avoiding touching our faces, and replacing handshakes and hugs with fist bumps and bows. You will find her letter here in English and Spanish.
As we learn more about the threat, I have decided that additional measures are necessary, in keeping with our shared responsibility in Christ to care for one another. According to the experts we have consulted, in the event of an outbreak of the disease in our diocese, we cannot promise people that that the stubborn COVID-19 virus, if deposited on the lip of the chalice, will not be passed to another communicant. For this reason, in the Diocese of Olympia, which has been hard hit already, health officials have already asked churches to stop offering the common cup.
I believe it would be prudent for us to follow suit. By my authority as your diocesan bishop, I hereby inform all our lay and ordained leaders that communion wine may not be offered in our churches, either for sipping or by intinction, until we can be confident that the danger of mass COVID-19 infections has abated.
Intinction is unfortunately not a safe alternative to sipping. As we have all learned in recent days, the virus usually enters the body through the mouth or nose. When a chalice bearer intincts for me, they risk touching my mouth and either passing or acquiring the virus. When I intinct for myself, I may touch the wine and the sides of the chalice.
Priests presiding at Holy Eucharist will still need to consecrate a small amount of wine as they perform the rite. We reformed Christians know well that laypeople's access to the common cup was a hard-won right. But it bears emphasizing that, according to our theology of Holy Eucharist, the work of the sacrament is complete when taken in only one kind. If I have taken the consecrated host, I receive no additional benefit from the consecrated wine.
Again, we will lift this restriction when the crisis has abated. I nevertheless urge the leaders of all our congregations to use this opportunity for teaching and dialog about intinction, whose health risks will outlast the emergency.
A word as well about the host. We ask all those touching communion wafers to wash their hands vigorously with soap and water immediately before their work at the altar begins – not before the service, but just before consecrating or distributing the host. Also, ministers distributing the host should drop it onto the communicant's palm rather than placing it on their tongue.
Those churches using baked bread should switch to wafers, since the act of breaking up the bread entails considerable contact with ministers' fingers and hands.
Finally, at some of our services, communicants have a practice of standing in a circle and taking turns serving the elements. For the time being, these communities should appoint Eucharistic ministers to serve the consecrated host in accordance with the other instructions in this letter.
Above all, we want you to be safe. We know that you want your neighbors kneeling or standing at your side to be safe. I understand that most of us, deeply wedded to our shared practice, will not welcome these directives. On behalf our whole diocesan community, I thank each of you for giving of yourselves self-sacrificially for the sake of the whole body of Christ.
Especially in times such as these, when we are worried about ourselves and those we love, we depend on our church families for solace and strength, for pardon and renewal. Notwithstanding these temporary measures, may this continue to be so in all our churches. As we face and overcome this crisis, may a deepening understanding of our obligation to watch over our closest neighbors in the name of Christ make us ever more devoted to God's glory and the thriving of all God's people.
Yours in Christ's love,
The Rt. Rev. John Harvey Taylor
VII Bishop of Los Angeles
P.S.: If you have questions or concerns, please don't hesitate to let me know. Write me at jtaylor@ladiocese.org.
___________________________________________________
Al Pueblo de la Diócesis de Los Ángeles:
Saludos en el nombre de nuestro Señor Jesucristo.
Este mensaje viene con la seguridad de que la Obispa Bruce, la Canóniga McCarthy y todos nosotros en St. Paul's Commons oramos por ustedes a diario, más aún en medio de la crisis emergente que plantea la amenaza del nuevo coronavirus.
Espero que hayan tenido la oportunidad de leer, tomar notas y digerir internamente la carta de la Obispa Bruce del 26 de Febrero acerca los pasos de sentido común que todos debemos tomar, incluyendo lavarse las manos con agua y jabón, estornudar en el dobles del codo, evitar tocarnos la cara y reemplazar apretones de manos y abrazos con golpes suaves de puño y de codo.. Ustedes pueden encontrar su carta aquí.
A medida que aprendemos más acerca de la amenaza, he decidido que son necesarias medidas adicionales, de acuerdo con nuestra responsabilidad compartida en Cristo de cuidarnos los unos a los otros. Según los expertos que hemos consultado, en caso de un brote de la enfermedad en nuestra diócesis, no podemos prometer a la gente que el terco virus COVID-19, si es que se deposita en el labio del cáliz, no se transmitirá a otra persona tomando el vino. Por esta razón, en la Diócesis de Olimpia, que ya ha sido duramente afectada por este virus, los funcionarios de salud ya han pedido a las iglesias que dejen de ofrecer el vino en la copa común.
Creo que sería prudente que hagamos lo mismo. En mi autoridad como obispo diocesano, por medio de la presente informo a todos nuestros líderes laicos y ordenados de que el vino de comunión no podrá ofrecerse en nuestras iglesias, ni para beberlo ni para mojar en vino el pan o la hostia, hasta que podamos estar seguros de que el peligro de las infecciones masivas del COVID-19 haya disminuido.
Desafortunadamente, el mojar la hostia o el pan en el vino no es una alternativa más segura que el tomar el vino del cáliz. Como todos hemos aprendido en los últimos días, el virus generalmente ingresa al cuerpo a través de la boca o la nariz. Cuando un ministro del cáliz moja para mí la hostia o el pan en el vino, este ministro corre el riesgo de tocarme la boca y pasar o adquirir el virus. Cuando yo mojo el la hostia o el pan por mí mismo, puedo tocar el vino y el borde del cáliz.
Los sacerdotes que presidan la Santa Eucaristía todavía deberán consagrar una pequeña cantidad de vino mientras llevan a cabo el rito. Los cristianos reformados saben bien que el acceso de los laicos a la copa común fue un derecho ganado con mucho esfuerzo. Pero vale la pena enfatizar que, según nuestra teología de la Santa Eucaristía, el sacramento en una sola especie es completo y suficiente. Si he tomado la hostia consagrada, no recibo ningún beneficio adicional al recibir el vino consagrado.
Levantaremos esta restricción cuando la crisis haya disminuido. No obstante, insto a los líderes de todas nuestras congregaciones a que aprovechen esta oportunidad para enseñar y dialogar acerca de mojar la hostia o el pan en el vino, cuyos riesgos para la salud durarán más allá de lo que dure esta emergencia.
Una palabra también sobre la hostia. Pedimos a todas las personas que tocan las hostias de comunión que se laven las manos vigorosamente con agua y jabón inmediatamente antes de que comience su trabajo en el altar, no antes del servicio, sino justo antes de consagrar o distribuir la comunión. Además, los ministros que distribuyan la comunión deberán ponerla en la palma del comulgante en lugar de colocarla en su lengua.
Las iglesias que utilizan pan horneado deben cambiar a hostias, ya que el acto de partir el pan implica un contacto considerable con los dedos y las manos de los ministros.
Finalmente, en algunos de nuestros servicios, los comulgantes tienen la práctica de pararse en un círculo y darse la comunión unos a otros. Por el momento, estas comunidades deben nombrar ministros eucarísticos para servir la comunión de acuerdo con las otras instrucciones contenidas esta carta.
Sobre todo, queremos que se sientan seguros y seguras. Sabemos que ustedes quieren que sus parientes en Cristo, quienes se arrodillan o están a su lado, también se sientan seguros. Entiendo que la mayoría de nosotros, profundamente comprometidos con nuestra prácticas de compartir, no le daremos la bienvenida a estas directivas. En nombre de toda nuestra comunidad diocesana, les agradezco a cada uno de ustedes por sacrificarse por el bien de todo el cuerpo de Cristo.
Especialmente en tiempos como estos, cuando estamos preocupados por nosotros mismos y por aquellos a quienes amamos, dependemos de nuestras familias en la iglesia para obtener consuelo y fortaleza, perdón y renovación. A pesar de estas medidas temporales, espero que éste siga siendo el espíritu en todas nuestras iglesias. A medida que enfrentamos y superamos esta crisis, espero que una comprensión cada vez más profunda de nuestra obligación de velar por nuestros vecinos más cercanos en el nombre de Cristo nos haga cada vez más devotos a la gloria de Dios y al florecimiento de todo el pueblo de Dios.
Suyo en el amor de Cristo,
El Reverendísimo John Harvey Taylor
VII Obispo de Los Ángeles
P.D.: Si tiene preguntas o inquietudes, no dude en hacérmelo saber. Escríbeme a jtaylor@ladiocese.org.