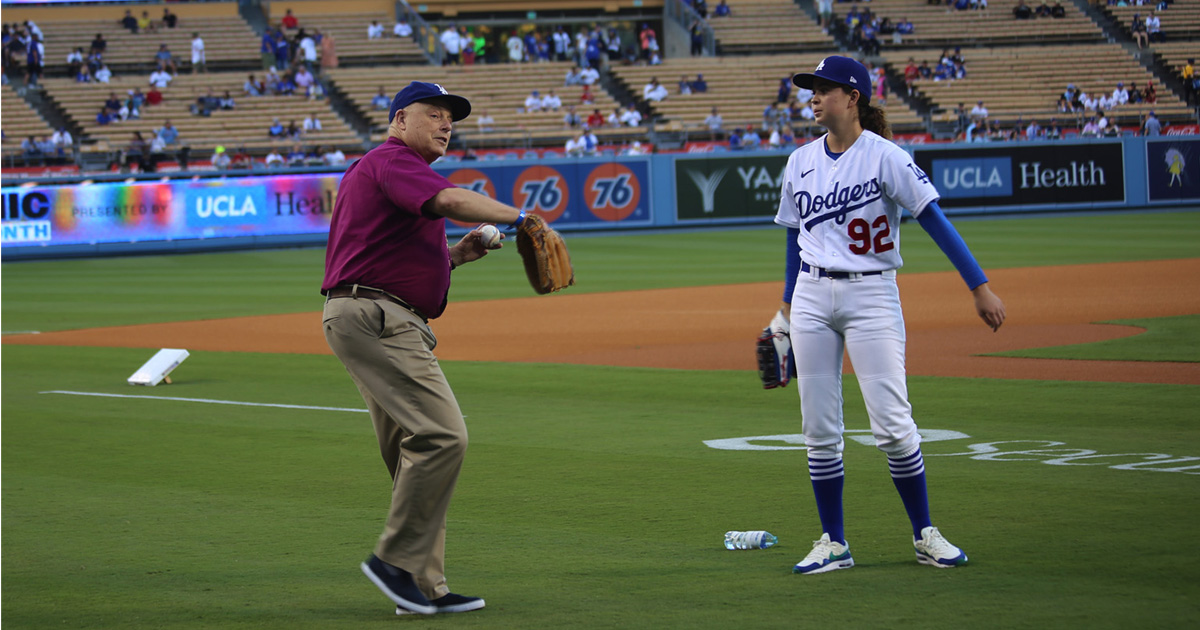 [The Episcopal News] More than 800 Episcopalians and their friends and families witnessed baseball history on Sept. 23 — the annual Episcopal Night at Dodger Stadium – as Albert Pujols of the Cardinals hit his 699th and 700th career home runs.
Bishop John Harvey Taylor threw a ceremonial first pitch; his longtime friend and college classmate David Eisen, who provides legal counsel to the Diocese of Los Angeles, caught the ball as it arrived at home plate with a bounce. In his Facebook and blog account, Taylor joked, "If you weren't there, my pitch was clocked at 88 mph and knocked David's glove off." (See his post for additional photos.)
The Rev. Canon Greg Larkin, recently retired as rector of St. Columba's Church, Camarillo, is affectionately known as "Canon Baseball" for his long service as coordinator of the diocese's annual night at Dodger Stadium, beginning 29 years ago under Bishop Frederick Borsch and continuing under Bishop J. Jon Bruno, both devoted fans of the team. Episcopal Night returned in 2022 after two years of Covid-19 pandemic restrictions.
The outcome on this year's Episcopal Night wasn't good for the Dodgers, who were shut out 11 – 0, but the crowd of 50,041 gave Pujols (a former Anaheim/Los Angeles Angel and, briefly, Dodger player) a generous and extended standing ovation after he became the fourth MLB player to reach the 700 HR mark (after Babe Ruth, Hank Aaron and Barry Bonds). Pujols, 42, will retire at the end of this season after a 21-year major league career.
The Dodgers, with 104 season wins, have already clinched the National League West for 2022 and are heading for the playoffs, which will begin Oct. 11 at Dodger Stadium.
Click on any thumbnail to see the full photo. Photos: Janet Kawamoto