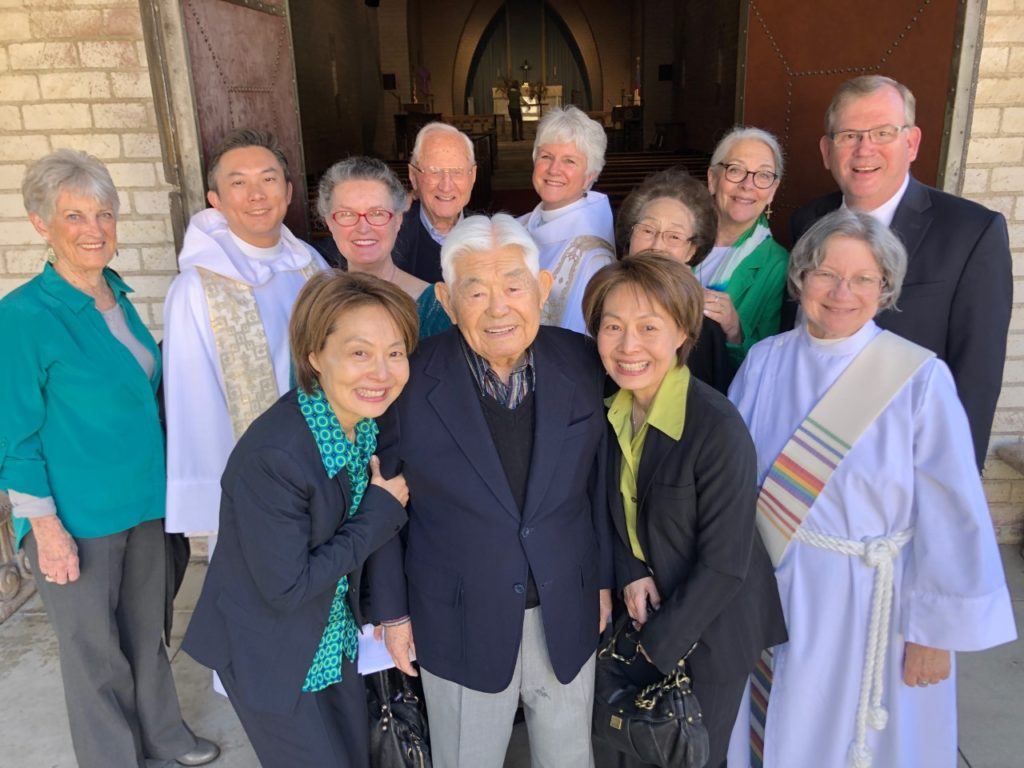 Este mensaje aparece en español después del texto en inglés.
This message appears in Spanish after the English text.
If we're honest with ourselves, a lot of us are waiting for someone at the top to reassure us and tell us exactly what do. We want someone to say it's bad, but we can make it better, and make it through, by working together and caring for one another. Someone to say they're walking with us, care about us, and want what's best for everyone. Even someone to say, "Don't buy all the Purell and toilet paper at Costco, because your neighbor needs some, too."
In moments such as this, even the stock market is assigned a needy personality. We're told it is seeking reassurance. For whatever reason, on Thursday, it didn't feel reassured. It was said to be panicked.
Many of us know the feeling. In perilous times, everyone needs a rock to cling to and needs to feel they're not alone. Christians have Jesus. But not everybody does. During World War II, the government told our forebears to save rubber and bacon grease, in part to give people a sense that they were helping. Whether you're faithful or not, a sense of common purpose and resolve quiets fear and is a scandal to selfishness. Without it, people begin to make their own rules.
This week, your servants at the Diocese of Los Angeles have given considerable thought to attempting to provide reassurance to everyone in our far-flung family by promulgating a unified plan for worship and ministry to help blunt the spread of the novel coronavirus. But we realized that one size doesn't fit all.
So we decided to turn the question back to you. If you're a leader in your faith community (or workplace, or community organization), what do you think should be done, based on what local health experts are advising, balanced with the needs of the community you serve?
Your first instinct may be to follow some national examples and close everything down. But then you'll realize, for example, that you had better have someone waiting at the door of the canceled AA meetings on your campus, prepared to tell people where the other meetings in the neighborhood are. Assuming they're not all closed down. Ask someone relatively new in their sobriety what might happen if they need to get to a meeting and can't.
When making your decisions, think first about the health risks. Remember that it is the work of Christ to try to keep the disease from spreading to the most vulnerable. Persons over 60 with pre-existing health conditions should always stay home.
Get the best advice of state and local officials. The California Department of Public Health recommends against gatherings that include 250 people or more as well as gatherings held in venues that don't allow for social distancing of six feet per person (as most of our churches do!). Read more here. Find a summary of what our six counties are saying here.
Consider everything you know about social distancing and hygiene. Think about the spiritual and practical needs of your local community. No one knows them better than you.
Put it all together, and make a plan. Maybe one service for a while. Maybe invite the choir to come just to worship rather than sing. You can always cancel coffee hour and Sunday school and midweek Bible study. Offer Morning Prayer instead of Holy Eucharist if you think best.
But think about how to find a way for people to be together in community and communion, especially on Saturdays and Sundays when they're used to being together, and still be safe — and especially still get pastoral care and, as needed, visits. Call or text Bishop Bruce, Canon McCarthy, or me if you want to check an idea out. Then share what you're doing with others, so they can borrow your ideas. Put it on social media, and send us emails.
If your decision is to cancel worship, think about live-streaming a service from church or your home. Here's how. Even if you're not canceling services, you might consider live streaming for the benefit of church members who are staying home because they are ill or have comprised immune systems.
Pray hard. Stay cheerful. Follow the news and the advice of state and county health authorities when it comes to public gatherings. And then make a plan for this weekend and the weeks to come that feels right for you and your community. I'll support you all the way.
Resources
All are invited to an Episcopal Relief and Development webinar on maintaining safety while continuing to serve our most vulnerable populations on Friday, March 13 at noon PST.
Bishop Bruce's guidelines on hygiene and social distancing
Bishop Taylor's directive on the temporary suspension of the use of wine during Holy Eucharist
"Health and Strength in Community I" guidelines
---
Salud y Fuerza en la Comunidad I
Un mensaje del Obispo John Harvey Taylor
Si somos honestos con nosotros mismos, muchos de nosotros estamos esperando que alguien en una posición ejecutiva nos diga exactamente lo que hay que hacer. Queremos que alguien diga que es malo, pero podemos mejorarlo y superarlo trabajando juntos y cuidándonos unos a otros. Alguien que diga que camina con nosotros, se preocupa por nosotros y quiere lo mejor para todos. Incluso alguien que diga: "No compren todo el Purell y el papel higiénico en Costco, porque sus vecinos también necesitan un poco".
En momentos como este, incluso la bolsa de valores se le asigna una personalidad necesitada. Nos dicen que está buscando tranquilidad. Por alguna razón, el jueves, no se sintió tranquilo. Se decía que estaba en pánico.
Muchos de nosotros conocemos la sensación. En tiempos de peligro, todos necesitan una identidad fuerte a que adherirse y necesitan sentir que no están solos. Los cristianos tienen a Jesús. Pero no todos tienen a Jesús. Durante la Segunda Guerra Mundial, el gobierno les dijo a nuestros antepasados que ahorren hule y grasa de tocino, en parte para darle a las personas la sensación de que estaban ayudando. Si eres fiel o no, un sentido de propósito común y resolución calma el miedo y es un escándalo para el egoísmo. Sin él, las personas comienzan a hacer sus propias reglas.
Esta semana, sus servidores en la Diócesis de Los Ángeles han pensado mucho en tratar de brindarle tranquilidad a todos en nuestra remota familia al promulgar un plan unificado de adoración y ministerio para ayudar a mitigar la propagación del nuevo coronavirus. Pero nos dimos cuenta de que una sola talla no sirve para todos.
Así que decidimos devolverle la pregunta. Si ustedes son líderes en su comunidad de fe (o lugar de trabajo, u organización comunitaria), ¿qué creen que debería hacerse, según lo que aconsejan los expertos locales en salud, equilibrado con las necesidades de la comunidad a la que sirven?
Su primer instinto puede ser seguir algunos ejemplos nacionales y cerrar todo. Pero entonces se darán cuenta, por ejemplo, de que es mejor tener a alguien esperando en la puerta de las reuniones canceladas de AA en su campus, preparado para decirle a la gente dónde están las otras reuniones en el vecindario. Asumiendo que no están todas cerradas. Pregúntele a alguien relativamente nuevo en su sobriedad qué podría suceder si necesita llegar a una reunión y no pueden.
Al tomar sus decisiones, piensen primero en los riesgos de la salud. Recuerden que es la obra de Cristo tratar de evitar que la enfermedad se propague a los más vulnerables. Las personas mayores de 60 años con condiciones de salud preexistentes siempre deben quedarse en casa.
Obtengan el mejor consejo de los funcionarios estatales y locales. El Departamento de Salud Pública de California recomienda no realizar reuniones que incluyan a 250 personas o más, así como reuniones celebradas en lugares que no permiten el distanciamiento social de seis pies por persona (¡como lo hacen la mayoría de nuestras iglesias!). Lean más aquí. Encuentren un resumen de lo que dicen nuestros seis condados aquí.
Consideren todo lo que saben sobre el distanciamiento social y la higiene. Piensen en las necesidades espirituales y prácticas de su comunidad local. Nadie los conoce mejor que ustedes.
Pónganlo todo junto y hagan un plan. Tal vez un solo servicio por un tiempo. Tal vez inviten al coro a venir solo a adorar en lugar de cantar. Siempre pueden cancelar la hora del café y la escuela dominical y el estudio bíblico. Ofrezcan la oración de la mañana en lugar de la Sagrada Eucaristía si lo creen mejor.
Pero piensen en cómo encontrar una manera de que las personas estén juntas en la comunidad y en la comunión, especialmente los sábados y domingos cuando están acostumbrados a estar juntos, y aun así estar seguros, y especialmente recibir atención pastoral y, según sea necesario, visitas. Llamen o envíen un mensaje de texto al la Obispa Bruce, La Canóniga McCarthy o a mí si desean consultar una idea. Luego compartan lo que están haciendo con los demás, para que puedan tomar prestadas sus ideas. Póngalo en las redes sociales y envíenos correos electrónicos.
Si su decisión es cancelar la adoración, piensen en transmitir sus servicios en vivo desde su iglesia o casa. Aquí esta cómo lo pueden hacer. Incluso si no cancelan los servicios, pueden considerar la transmisión en vivo para el beneficio de los miembros de la iglesia que se quedan en casa porque están enfermos o tienen sistemas inmunes comprometidos.
Recen frecuentemente. Manténganse alegre. Sigan las noticias y los consejos de las autoridades de salud estatales y del condado cuando se trata de reuniones públicas. Y luego hagan un plan para este fin de semana y las próximas semanas que se sientan bien para usted y su comunidad. Los apoyaré todo el camino.
Recursos
Todos están invitados a un seminario web de Episcopal Relief and Development sobre el mantenimiento de la seguridad mientras continuamos sirviendo a nuestras poblaciones más vulnerables el viernes 13 de marzo al mediodía PST.
Pautas de la obispa Bruce sobre higiene y distanciamiento social
Directiva del obispo Taylor sobre la suspensión temporal del uso del vino durante la Santa Eucaristía