A compilation of stories, photos and videos from the 2019 meeting of Diocesan Convention.

Taylor tells convention he is 'recklessly optimistic' about the church, the future
Los Angeles Bishop John Harvey Taylor on Nov. 15 welcomed the 124th annual diocesan convention back to Riverside, issuing a call for community activism and neighborly curiosity, and inviting congregations "to have me over for dinner" or a Thursday evening potluck to share sustainability strategies. Read more here.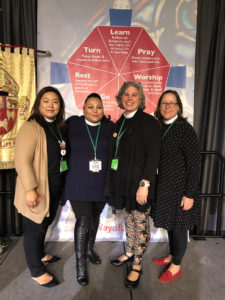 Convention: Election results
A list of people elected to diocesan offices during the 2019 meeting of convention, including clergy and lay deputies to General Convention. Read more here.

Diocesan convention: Continuing the Lifelong Way of Love
Delegates attending the 124th annual meeting of the Episcopal Diocese of Los Angeles on Nov. 16 rededicated themselves to dismantling racism, joined iconic civil rights activist Dolores Huerta in a rousing 'si se puede' chant and voted for budding church entrepreneurs in a 'Fish Tank' challenge. Read more here.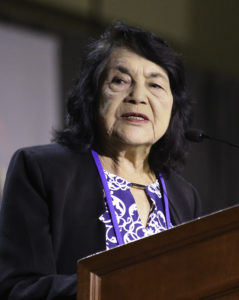 Civil rights activist Dolores Huerta: We need spiritual guidance AND spiritual activism
Legendary labor organizer and civil rights activist Dolores Huerta galvanized some 800 delegates and others Nov. 16 at the 124th annual meeting of the Diocese of Los Angeles, leading rousing chants: "We've got the power" and "Si se puede! Si se puede!" Read more here.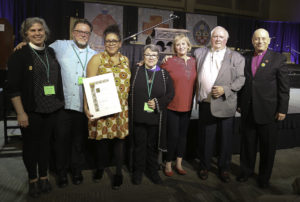 Bishop Taylor names two as honorary canons
During the Friday night dinner on Nov. 15 at Diocesan Convention Bishop John Harvey Taylor named two lay leaders as canons of the diocese, chosen in consultation with Bishop Suffragan Diane Jardine Bruce and Canon to the Ordinary Melissa McCarthy. Read more here.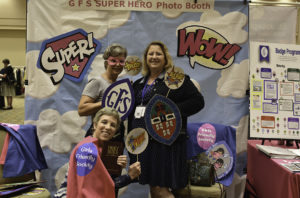 Convention Photo Gallery
See gallery here.
Videos
Click on titles to view videos.
Reports, addresses and sermons
Presence: Quieting the Self to Hear the Other
Kindness: Being the Peace of Christ in Anxious Times
Wisdom: Forming Well-Educated Christians
The Bishop's Address
The Rt. Rev. Bishop John Harvey Taylor
The Suffragan Bishop's Address
The Rt. Rev. Diane Jardine Bruce
The Canon to the Ordinary's Address
The Rev. Canon Melissa McCarthy
The Margret Parker Lecture
Dolores Huerta, lecturer
Convention Eucharist Sermon
The Rev. Canon Susan Russell
Resource Round-up Workshops
CPG 101: Getting to Know Each Other
Presenters: The Rev. Garth M. Howe, vice president for Domestic Account Management, Church Pension Group
An Introduction to FreshStart for Laity – Equipping Church Leaders
Presenter: The Rev. Canon Joanna Satorius, Canon Patti Jo McKay
A Changing Church in a Changing World: Leadership in Times of Transition
Presenter: The Rev. Bob Honeychurch
Three Activities to Empower Your Congregation to be Missional
Presenter: The Rev. Eric H. F. Law, executive director, Kaleidoscope Institute
Nuts & Bolts – What you need to know about church finances
Presenters: The Rev. Michele Racusin, Melania Garibay
Social Enterprise for Sustainable Churches
Presenter: The Rev. Canon Jaime Edwards-Acton
Camp Stevens & Gender Inclusivity
Presenter: Emma Simons-Araya
CPG 101: Getting to Know Each Other
Presenters: The Rev. Garth M. Howe, vice president for Domestic Account Management, Church Pension Group
Being a Deacon
Presenters: The Venerable Canon Charleen Crean, the Rev. Catherine Wagar
Words & Worship: The Ongoing Work of Liturgical & Prayer Book Revision
Presenters: The Rev. Canon Susan Russell, the Rev. Kay Sylvester, the Rev. Norma Guerra
Community "Soul Care"
Presenters: The Rev. Rick Byrum, the Rev. Celeste Stump, Susan Brown, the Rev. Brian O'Rourke
Lo que necesitan saber sobre las finanzas de la iglesia
Presenters: The Rev. Michele Racusin, Melania Garibay
Living into our Baptismal Covenant through a Ministry of Welcome:
Accompanying Refugees, Asylum Seekers, and Migrants
Presenters: Members of IRIS & Sacred Resistance